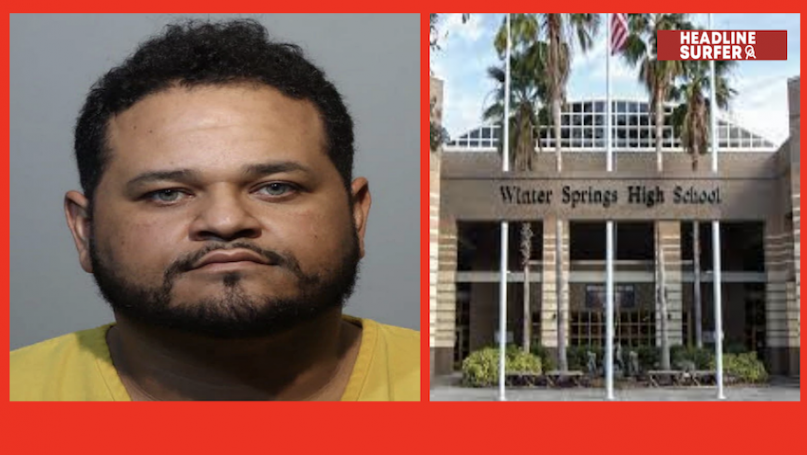 Counting 'em Down: For better or for worse, this is the Headline Surfer countdown of the 2021's Top 100 biggest news stories of Central Florida along the tourism-driven stretch of Interstate 4 (Orlando Attractions and east to I-95 & the World's Most Famous Beach in Daytona). Each recap segment is posted with its own headline, culminating with the unveiling of No. 1 in the first two weeks of January, if not sooner, before switching to the Top 5 storylines -- the good, the bad & the ugly on the horizon in "2022: The Year That Lies Ahead." 
Photo for Headline Surfer / Above: David Gomez is shown in the Dec. 27, 2021 jail mugshot along with a screenshot of the front entrance to Winter Springs High School.
By HENRY FREDERICK / Headline Surfer
WINTER SPRINGS, Fla. -- It was a threat of gun violence in wanting to remove his daughter from Winter Springs High School along with a bizarre Tik Tok video that reinforced such violence landed a 37-year old Altamonte Springs man in jail in late December, Winter Springs cops said.
David Gomez was arrested on Dec. 27 on probable cause and charged with one count of making written or electronic threats to kill, do bodily injury, or conduct a mass shooting or an act of terrorism.
Gomez's family contacted the Winter Springs Police Department to report the threat and also reportedly told the police they were "in fear of their lives," according to a police affidavit. 
Gomez allegedly threatened to pull his daughter out of Winter Springs High School, by "shooting anybody" who got in his way in a series of text messages, according to an arrest affidavit.
Gomez is accused of sending intimidating texts to her and her mother, as well as the teen's grandmother, aunt, and uncle on Dec. 16, the affidavit states, adding police said Gomez's relatives expressed being "in fear of their lives."
"You go to Winter Springs School I will come pull you out of school," said one of the texts, followed by, "I'll shoot anybody who gets in my mother (expletive) way."
"You go to Winter Springs School I will come pull you out of school," said one of the texts, followed by, "I'll shoot anybody who gets in my mother (expletive) way."
Winter Springs cops didn't say why Gomez wanted to pull his daughter out of the school. He does not live with his daughter.
The teen's mother told Winter Springs cops prior to his arrest that she believed he is capable of carrying out the threats and neither she nor her daughter feels safe knowing he is "roaming freely" while showing "intense aggression towards myself and my family." 
The affidavit also referenced a bizarre TikTok video posted to Gomez's Facebook page of a man dancing in body armor toward a bedroom while the Neil Diamond tune, "Sweet Caroline" plays, before three gunshots go off. Posted the same day as the threatening texts, the caption reads, "I won't need a gun.. my hands registered.. [sic]." 
Since the arrest, the TikTok video has since been removed from Gomez's Facebook page.
A woman who answered the door at Gomez's Altamonte Springs residence hours before his arrest told cops he was aware of the fear instilled in his relatives and was headed to the Winter Springs police station to turn himself in. Later in the day, cops got a tip that he was at a friend's house and responding officers took him into custody without incident.
Gomez has since been released from jail after posting a $15,000 bond. As conditions of his pre-trial release, Gomez was fitted with an ankle bracelet to monitor his movements, ordered to take his prescribed psychiatric meds and to stay away from his daughter, her mother as well as Winter Springs High School.
A not guilty plea was entered on Gomez's behalf at his first appearance. He's scheduled for arraignment before Circuit Judge Melanie Chase at the Criminal Justice Center in Sanford. 
Gomez faces up to 15 years in prison if convicted of the second-degree felony charge of intimidation/written electronic threat of mass shooting/terrorism. He has an extensive arrest record in Seminole County.
About the Byline Writer: Henry Frederick is a member of the working press and publisher of Headline Surfer, the award-winning 24/7 internet news outlet launched in 2008, that serves greater Daytona Beach, Sanford & Orlando from Lake Mary, Florida via HeadlineSurfer.com. Frederick has amassed close to 150 award-winning bylines in print & online. He earned his Master of Arts in New Media Journalism from Full Sail University in 2019. He was a breaking news reporter (metro cops & courts beat) for the Daytona Beach News-Journal for nearly a decade. And Before that worked the same beat for The Journal-News/Gannett Suburban Newspapers in Rockland/Westchester counties, NY, dating back to 1989. Having witnessed the execution of serial killer Aileen Wuornos in Florida's death chamber and covering other high profile cases, Frederick has appeared on national crime documentary shows on Discovery ID, Reelz, and the Oxygen Network series "Snapped" for his analysis. • Award-Winning Journalism: Florida Press Club recognizes Headline Surfer for nine stories in 2020 statewide competition. • Award-Winning Journalism of Henry Frederick.