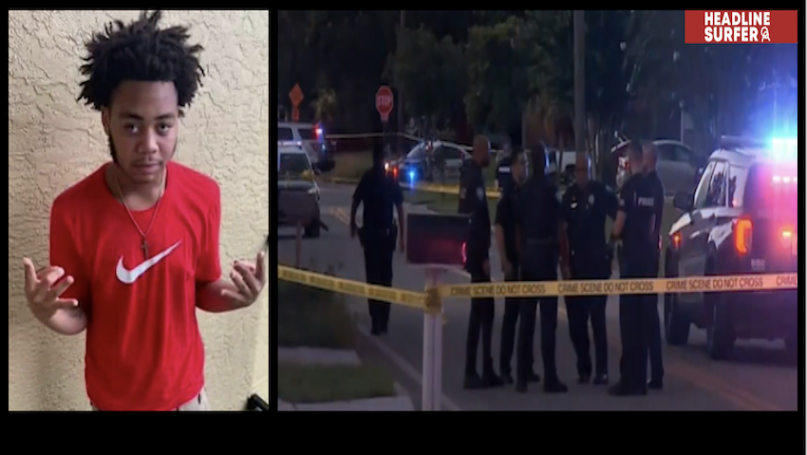 Counting 'em Down: For better or for worse, this is the Headline Surfer countdown of the 2021's Top 100 biggest news stories of Central Florida along the tourism-driven stretch of Interstate 4 (Orlando Attractions and east to I-95 & the World's Most Famous Beach in Daytona). Each recap segment is posted with its own headline, culminating with the unveiling of No. 1 in the first two weeks of January, if not sooner, before switching to the Top 5 storylines -- the good, the bad & the ugly on the horizon in "2022: The Year That Lies Ahead." 
Photos for Headline Surfer / Above: Jaitoryon McNair, 16, was gunned down in front of his family's home at 209 Hays Drive, in Sanford, Florida on Aug. 12, 2021. He died a short time later at the hospital. Below: A nearby surveillance camera picked up the shooter vehicle, a 4-door black sedan, that sped off north on Hayes and then west onto Anderson Circle.
By HENRY FREDERICK / Headline Surfer
SANFORD, Fla. -- An early evening drive-by shooting back in August resulted in the death of a 16-year-old boy who was hit multiple times while standing on the patio in front of a home by gunfire from inside a 4-door sedan that sped away after the rapid gunfire, Sanford cops said.
Here is a synopsis of what occurred as described in an email media alert to Headline Surfer on Aug. 12, 2021: At 6:36 pm, Sanford Police received a 9-1-1 call reporting a shooting with injuries at 209 Hays Drive.
Responding Sanford cops discovered Jaitoryon McNair (DOB: Nov. 28, 2004) on the front patio of 209 Hays Drive suffering from multiple gunshot wounds. He was transported to Seminole County Regional Hospital in Sanford where he died a short time later as a result of his injuries.
Based on the initial investigation, it appeared numerous bullets were fired from a black, four-door sedan that was traveling north on Hays Drive. The vehicle then turned west on Anderson Circle before fleeing the area.
The victim and the shooter knew each other, according to Sanford police spokeswoman Bianca Gillett, who described it as an isolated incident.
"We are hoping somebody saw that vehicle leave the area," Gillett said back on Aug. 13, the day after the fatal shooting, releasing a photo of the suspect vehicle.
The deceased shooting victim, Jaitoryon McNair, attended Oviedo High School, which had counselors available for students, according to Seminole County Public Schools.
The deceased shooting victim, Jaitoryon McNair (shown here in this Facebook pic), attended Oviedo High School, which had counselors available for students, according to Seminole County Public Schools.
Investigators are asking for anyone with information on this vehicle or incident to contact the Sanford Police Department or Crimeline at 800 423-TIPS (8477) or visit www.crimeline.org. Calls made to Crimeline remain anonymous, and tips to Crimeline that lead to solving homicide cases are eligible for a cash reward of up to $5,000.
About the Byline Writer: Henry Frederick is a member of the working press and publisher of Headline Surfer, the award-winning 24/7 internet news outlet launched in 2008, that serves greater Daytona Beach, Sanford & Orlando from Lake Mary, Florida via HeadlineSurfer.com. Frederick has amassed close to 150 award-winning bylines in print & online. He earned his Master of Arts in New Media Journalism from Full Sail University in 2019. He was a breaking news reporter (metro cops & courts beat) for the Daytona Beach News-Journal for nearly a decade. And Before that worked the same beat for The Journal-News/Gannett Suburban Newspapers in Rockland/Westchester counties, NY, dating back to 1989. Having witnessed the execution of serial killer Aileen Wuornos in Florida's death chamber and covering other high profile cases, Frederick has appeared on national crime documentary shows on Discovery ID, Reelz, and the Oxygen Network series "Snapped" for his analysis. • Award-Winning Journalism: Florida Press Club recognizes Headline Surfer for nine stories in 2020 statewide competition. • Award-Winning Journalism of Henry Frederick.