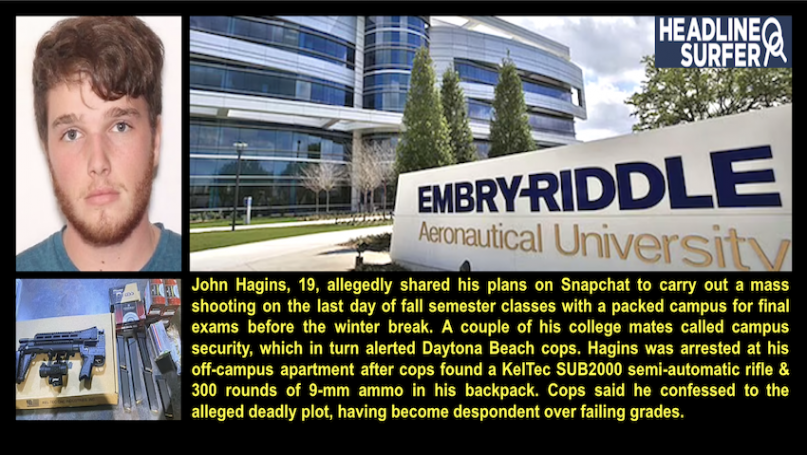 Counting 'em Down: For better or for worse, this is the Headline Surfer countdown of the 2021's Top 100 biggest news stories of Central Florida along the tourism-driven stretch of Interstate 4 (Orlando Attractions and east to I-95 & the World's Most Famous Beach in Daytona). Each recap segment is posted with its own headline, culminating with the unveiling of No. 1 on New Year's Day or shortly thereafter. Then Headline Surfer will post a Top 10 forecast story of the good, the bad & the ugly on the horizon in "2022: The Year That Lies Ahead." 
By HENRY FREDERICK / Headline Surfer
DAYTONA BEACH, Fla. -- Daytona Beach cops arrested a 19-year-old Embry-Riddle Aeronautical University student for allegedly plotting to shoot up the campus on the final day of classes before winter break.
John Hagins faces numerous charges after ERAU campus security notified Daytona Beach police on Dec. 9 of threats of gun violence.
"We could have had a tragedy unfold today," Police Chief Jakari Young said emphatically. "Instead, these students reported it to the school and that allowed us to get to work right away and bring Hagins into custody before he could carry out his plans. We thank them all for seeing something and saying something."
Volusia County emergency dispatchers were first informed by ERAU security at 4:10 a.m. that day, which prompted officers to respond to the scene at 175 Aerospace Boulevard.
Investigators quickly discovered social media messages Hagins had written where he laid out his plans to bring a folding gun to the campus tucked inside a backpack along with hundreds of rounds of ammunition. It appears Hagins sold his vehicle to purchase that gun and ammunition, police said.
Cops who took Hagins into custody at his residence in the Andros Isles apartments found the gun, ammunition, and backpack in his possession. 
Detectives are still trying to piece together the exact motive, but have since learned that Hagins was in danger of failing classes at ERAU and was also cited for a traffic infraction while on campus the day before his Dec. 9 arrest.
About the Byline Writer: Henry Frederick is a member of the working press and publisher of Headline Surfer, the award-winning 24/7 internet news outlet launched in 2008, that serves greater Daytona Beach, Sanford & Orlando from Lake Mary, Florida via HeadlineSurfer.com. Frederick has amassed close to 150 award-winning bylines in print & online. He earned his Master of Arts in New Media Journalism from Full Sail University in 2019. He was a breaking news reporter (metro cops & courts beat) for the Daytona Beach News-Journal for nearly a decade. And Before that worked the same beat for The Journal-News/Gannett Suburban Newspapers in Rockland/Westchester counties, NY, dating back to 1989. Having witnessed the execution of serial killer Aileen Wuornos in Florida's death chamber and covering other high profile cases, Frederick has appeared on national crime documentary shows on Discovery ID, Reelz, and the Oxygen Network series "Snapped" for his analysis. • Award-Winning Journalism: Florida Press Club recognizes Headline Surfer for nine stories in 2020 statewide competition. • Award-Winning Journalism of Henry Frederick.