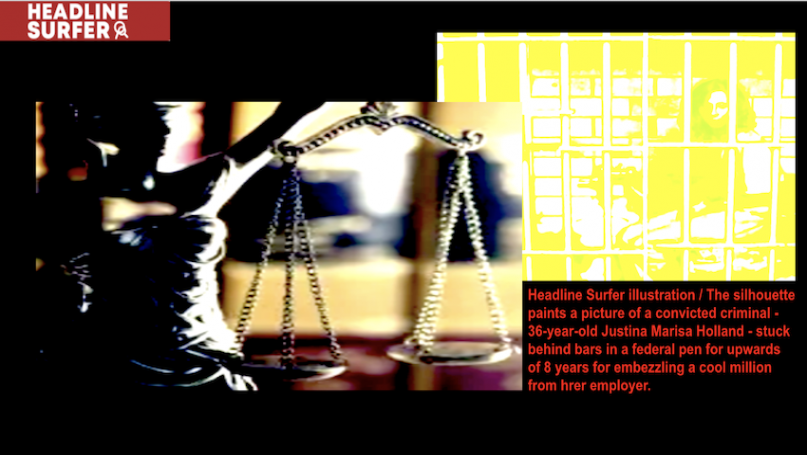 Counting 'em Down: For better or for worse, this is the Headline Surfer countdown of the 2021's Top 100 biggest news stories of Central Florida along the tourism-driven stretch of Interstate 4 (Orlando Attractions and east to I-95 & the World's Most Famous Beach in Daytona). Each recap segment is posted with its own headline, culminating with the unveiling of No. 1 in the first two weeks of January, if not sooner, before switching to the Top 5 storylines -- the good, the bad & the ugly on the horizon in "2022: The Year That Lies Ahead." 
By HENRY FREDERICK / Headline Surfer
ORLANDO, Fla. -- When taking into account the cost of living, it would take the average American worker 65 years to earn a million dollars over a lifetime, based on an annual salary of $35,000 a year.
Easier said than done!
Justine Maria Holland became a millionnaire in a fraction of that time. Just three years!
What?
Short of winning the state lottery, which didn't happen, how did the 36-year-old Winter Springs woman seemingly become an overnight millionaire? By embezzling from her employer, of course.
Holland had previously pleaded guilty to mail fraud, wire fraud, access device fraud, aggravated identity theft, false use of a Social Security number, and theft of government property, but the free reign she had in cooking the books, came to a grinding halt on Oct. 29, in a federal courtroom in Orlando when U.S. District Judge Roy B. Dalton threw the proverbial book at her - eight years in federal prison, as well as ordering her to pay $1,161,185.64 in restitution.
As she stood in front of him, she was now answering to the court as Justina Maria Rummel. Whatever name she was using, she wasn't walking out of that court on her own because the gig was up. The gig was up. 
imposed sentence and she was led away in handcuffs. 
Here's a synopsis of the government's case against her:
According to court documents, Holland was employed at a local business where she had access to the bank and credit accounts of the business and its owner. From March 2015 through June 2018, Holland used her position to embezzle more than $1 million from her employer and the employer's owner. Holland's scheme consisted of three parts:
• First, Holland embezzled more than $300,000 by taking funds from various company checking and IRA accounts and by manipulating the company payroll system to receive additional salary payments.
•Second, Holland engaged in more than $700,000 of credit card fraud by making unauthorized purchases using the victim's credit cards, which she paid by making unauthorized transfers from her employer's various bank accounts. Holland also opened a credit card account in the victim's name by using his Social Security number and then used that card to make more than $196,000 in purchases for herself, including visits to a local theme park. Holland used her employer's bank accounts to pay the bills for that credit card.
• Third, Holland used her minor son's Social Security number to obtain financing to buy a BMW and a Porsche. Holland used funds from her employer to make some of the car payments for her purchased luxury import vehicles.
• Third, Holland used her minor son's Social Security number to obtain financing to buy a BMW and a Porsche. Holland used funds from her employer to make some of the car payments for her purchased luxury import vehicles.
Holland covered up her embezzlements by providing her employer with false spreadsheets that concealed her spending, among other things.
During the time that Holland was working at the employer and embezzling funds, she received benefits through the Supplemental Nutrition Assistance Program os SNAP, a program that supplements the food budget of needy families so they can purchase healthy food and move towards self-sufficiency.
In her applications for public SNAP assistance, Holland had the gall to falsely claim that neither she nor her husband had earned income of any kind.
From May 2012 to August 2016, Holland received more than $23,000 in SNAP benefits. She would not have received any of those benefits had she not made those misrepresentations about her financial situation.
This case was investigated by the Federal Bureau of Investigation, the Seminole Financial Crimes Task Force, the U.S. Department of Agriculture, the Office of Inspector General, and the Florida Department of Financial Services, Division of Public Assistance Fraud.
t was prosecuted by Assistant United States Attorneys Roger B. Handberg and Terry B. Livanos.
Did You Know? 
Until 2008, SNAP was known as the Food Stamp Program. SNAP is a federally funded, national program established by the United States Department of Agriculture and administered in Florida by the Florida Department of Children and Families, more commonly known as DCF.
Editor's note: Headline Surfer was unable to get a copy of Hollard's mugshot because they are exempt from public record. Likewise, Headline Surfer was unable to find a pic of her on social media sites so the decision was made to go with a silhouette showing the confined quarters with a tiny bed, toilet, and sink behind thick steel bars.
About the Byline Writer: Henry Frederick is a member of the working press and publisher of Headline Surfer, the award-winning 24/7 internet news outlet launched in 2008, that serves greater Daytona Beach, Sanford & Orlando from Lake Mary, Florida via HeadlineSurfer.com. Frederick has amassed close to 150 award-winning bylines in print & online. He earned his Master of Arts in New Media Journalism from Full Sail University in 2019. He was a breaking news reporter (metro cops & courts beat) for the Daytona Beach News-Journal for nearly a decade. And Before that worked the same beat for The Journal-News/Gannett Suburban Newspapers in Rockland/Westchester counties, NY, dating back to 1989. Having witnessed the execution of serial killer Aileen Wuornos in Florida's death chamber and covering other high profile cases, Frederick has appeared on national crime documentary shows on Discovery ID, Reelz, and the Oxygen Network series "Snapped" for his analysis. • Award-Winning Journalism: Florida Press Club recognizes Headline Surfer for nine stories in 2020 statewide competition. • Award-Winning Journalism of Henry Frederick.