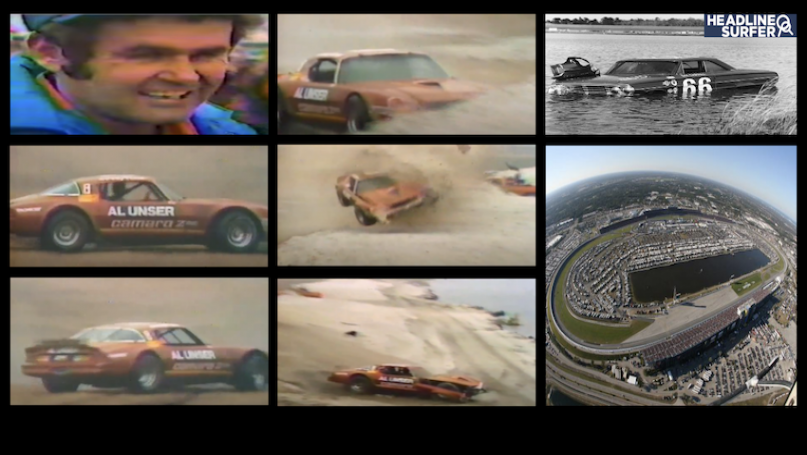 Counting 'em Down: For better or for worse, this is the Headline Surfer countdown of the 2021's Top 100 biggest news stories of Central Florida along the tourism-driven stretch of Interstate 4 (Orlando Attractions and east to I-95 & the World's Most Famous Beach in Daytona). Each recap segment is posted with its own headline, culminating with the unveiling of No. 1 on New Year's Day or shortly thereafter. Then Headline Surfer will post a Top 10 forecast story of the good, the bad & the ugly on the horizon in "2022: The Year That Lies Ahead." 
Headline Surfer photo illustration / Above: A series of screenshots showing Al Unser Sr.'s crash in the 1978 IROC race at Daytona where he nearly crash-landed into Lake Lloyd and a vintage B&W pic of Ray Darnell doing just that in a 1964 qualifying race for that year's ARCO 250 (credit: photo by ISC Images & Archives via Getty Images) / Below: YouTube embedding / Al Unser Sr's wreck in the 1978 IROC race at Daytona from which the screenshots above were taken.
HENRY FREDERICK / Headline Surfer
DAYTONA BEACH, Fla. -- "Go jump in a lake" certainly wasn't what car racing legend Al Unser Sr. was thinking after he skidded off the track at Daytona International Speedway during a 1978 IROC race, hit a berm, and went airborne before a belly-flop landing that destroyed the car.  
Unser nearly cartwheeled into Lake Lloyd when he got caught up in a multi-car accident involving Gordon Johncock, a two-time Indy 500 winner. 
But lady luck was on Unser's side that afternoon at the World Center of Racing -- his crumpled Camaro landing mere yards shy of bellyflopping into the cavernous Lake Loyd near the edge of the infield between near turn 3 of the 2.5-mile superspeedway.
But lady luck was on Unser's side that afternoon at the World Center of Racing -- his crumpled Camaro landing mere yards shy of bellyflopping into the cavernous Lake Loyd near the edge of the infield between near turn 3 of the 2.5-mile superspeedway.
Perhaps a big splash landing in the lake would have been catastrophic for one of the racing's greatest legends in a generation. But lady luck apparently was Unser's passenger that day and he walked away from the crash. After all, two drivers competing in races at Daytona in the early years at the track had crashed-landed into the infield lake and a third since Unser's near lake mishap in 1994. Fortunately, none of those drivers were killed.
Unser ended up winning the IROC race at Daytona in 1986, among a handful of stock car races, though he did finish fourth in the 1969 Daytona 500, his only entry in the Great American Race. He also was on the winning team in the 1985 running of the 24 Hours of Daytona (sports car endurance race), now known as the Rolex 24 at Daytona. 
Al Unser Sr., who died on Dec. 9, 2021, at age 82, after battling cancer for 17 years, is included in this Top 100 countdown for his big crash at Daytona. Its certainly not the biggest event on a race track; more like a foootnote in the racing legend's resume.
Unser's legacy was built on open-wheel or Indy Car racing. He's one of only four drivers to win the Indianapolis 500 a record-tying four times - 1970, 1971, 1978, 1987.
For that matter, the Unser Family's legacy was built on historic wins in the Indianapolis 500 - 9 in all - the four by Al Unser Sr., three by older brother Bobby Unser (1968, 1975 & 1981), and two more by Al Unser's son, aka "Little Al" (1992 & 1994).
In terms of individual greatness, Al Unser Sr. has led the most laps of any driver in the history of the Indianapolis 500, at 644. Unser tied Ralph DePalma's long-standing record of 612 laps led on the last lap of his fourth Indy 500 victory.
Unser holds the record of being the oldest driver to ever win the Indy 500 at 47 years old (1987), breaking the previous record set by his brother Bobby.
Unser won two 500-mile races at Pocono (in 1976 and 1978) and two more at Ontario (in 1977 and 1978) bringing his total of 500-mile race wins (including four Indianapolis 500s) to eight.
Al Unser's biggest achievement in cementing his legacy as one of the greatest open-wheel racers was his four record-tying Indy 500 championships. The other three drivers to win the Indian 500 four times are AJ Foyt (1961, 1964, 1967 & 1977), Rick Mears (1979, 1984, 1988 & 1991), and Helio Castroneves (2001, 2002, 2009 & 2021).   
Unser was the 1978 IROC champion. He also competed in the 1968 Daytona 500  (finishing in fourth) and four other NASCAR Winston Cup & Grand National races, all held on road courses with this best showing being fourth place twice.
Multimedia: 
YouTube embedding / CodyHGaming video / 1964 Daytona ARCA 250 Bay Darnell Lake Lloyd Crash | NR2003 Reenactment: Since there is no known footage of the wreck in the 1964 Daytona ARCA 250, the YouTuber here instead used what information and photos were available and set up a scenario of what the wreck might have looked like. 
About the Byline Writer: Henry Frederick is a member of the working press and publisher of Headline Surfer, the award-winning 24/7 internet news outlet launched in 2008, that serves greater Daytona Beach, Sanford & Orlando from Lake Mary, Florida via HeadlineSurfer.com. Frederick has amassed close to 150 award-winning bylines in print & online. He earned his Master of Arts in New Media Journalism from Full Sail University in 2019. He was a breaking news reporter (metro cops & courts beat) for the Daytona Beach News-Journal for nearly a decade. And Before that worked the same beat for The Journal-News/Gannett Suburban Newspapers in Rockland/Westchester counties, NY, dating back to 1989. Having witnessed the execution of serial killer Aileen Wuornos in Florida's death chamber and covering other high profile cases, Frederick has appeared on national crime documentary shows on Discovery ID, Reelz, and the Oxygen Network series "Snapped" for his analysis. • Award-Winning Journalism: Florida Press Club recognizes Headline Surfer for nine stories in 2020 statewide competition. • Award-Winning Journalism of Henry Frederick.