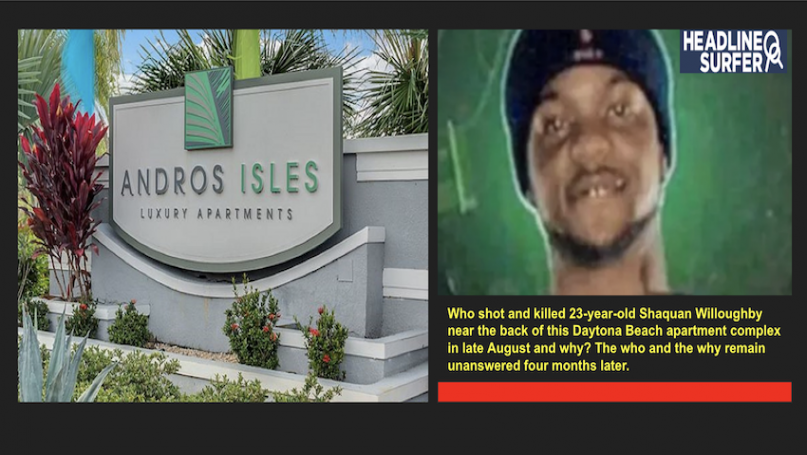 Counting 'em Down: For better or for worse, this is the Headline Surfer countdown of the 2021's Top 100 biggest news stories of Central Florida along the tourism-driven stretch of Interstate 4 (Orlando Attractions and east to I-95 & the World's Most Famous Beach in Daytona). Each recap segment is posted with its own headline, culminating with the unveiling of No. 1 on New Year's Day or shortly thereafter. Then Headline Surfer will post a Top 10 forecast story of the good, the bad & the ugly on the horizon in "2022: The Year That Lies Ahead." 
By HENRY FREDERICK / Headline Surfer
DAYTONA BEACH. Fla. -- Just who gunned down 23-year-old Shaquan M. Willoughby back in August remains unsolved to this day.
The Daytona Beach Police Department is actively investigating the fatal shooting that occurred at an apartment complex near Beville Road and Williamson Boulevard, but cops do not have any known suspects or motives for the homicide, though drugs may be a factor. 
Willoughby pleaded no contest to felony drug charges in circuit court in 2019 stemming from a traffic stop in Daytona Beach Shores, and adjudication of guilt was withheld. 
Shaquon Willoughby pleaded no contest to felony drug charges in circuit court in 2019 stemming from a traffic stop in Daytona Beach Shores. Adjudication of guilt was withheld.
Here is a synopsis of what occurred: Members of DBPD's Criminal Investigation Division responded to a weapons complaint at 145 Acklins Circle at 4:21 a.m. on Aug. 28, 2021.
First responders found Willoughby dead in a breezeway near the back of the Andros Isles apartment complex. 
Several witnesses told dispatchers they heard numerous gunshots and the sound of a vehicle leaving the apartment complex shortly afterward.
Police have not released information as to how many times Willoughby was shot or where he was hit by gunfire.
Daytona Beach Police CID detectives say they are still trying to find more details, including who fired the shots and what kind of vehicle was used to flee the scene.
Anyone with information is urged to contact Daytona Beach Police Detective Joseph Roces at (386) 671-5246 or RocesJoseph@DBPD.us regarding Case 210016036.
Obituary:
Funeral Services for Mr. Shaquan M. Willoughby, 23, Daytona Beach, were held on Sept. 4, 2021, at Master's Domain Church of God in Christ with Pastor Derrick R. Harris, officiating. Interment followed in Greenwood Cemetery.
He was born on June 4, 1998, to Shaun and Tabitha Willoughby entered rest into the loving arms of our Lord Jesus Christ, on Aug. 28, 2021.
Shaquan showed much love for his children, family, friends, and those he encountered along his journey in life. He was an avid basketball player, which he truly enjoyed. Shaquan attended Volusia County Schools and several churches in Daytona Beach.
He leaves to cherish his memory, daughter: Ava Willoughby; father: Shaun M. Willoughby; mother: Tabitha Willoughby; siblings: D'Yonna Fletcher, Shakyra Willoughby, and Dior Willoughby; paternal grandmother: Judith Willoughby; maternal grandmother: Pamela Weaver; maternal grandfather: Ralph Whitfield; and a host of loving sorrowing aunts, uncles, cousins, nieces, and friends.
R. J. Gainous Funeral Home, Inc. had charge of arrangements.
About the Byline Writer: Henry Frederick is a member of the working press and publisher of Headline Surfer, the award-winning 24/7 internet news outlet launched in 2008, that serves greater Daytona Beach, Sanford & Orlando from Lake Mary, Florida via HeadlineSurfer.com. Frederick has amassed close to 150 award-winning bylines in print & online. He earned his Master of Arts in New Media Journalism from Full Sail University in 2019. He was a breaking news reporter (metro cops & courts beat) for the Daytona Beach News-Journal for nearly a decade. And Before that worked the same beat for The Journal-News/Gannett Suburban Newspapers in Rockland/Westchester counties, NY, dating back to 1989. Having witnessed the execution of serial killer Aileen Wuornos in Florida's death chamber and covering other high profile cases, Frederick has appeared on national crime documentary shows on Discovery ID, Reelz, and the Oxygen Network series "Snapped" for his analysis. • Award-Winning Journalism: Florida Press Club recognizes Headline Surfer for nine stories in 2020 statewide competition. • Award-Winning Journalism of Henry Frederick.