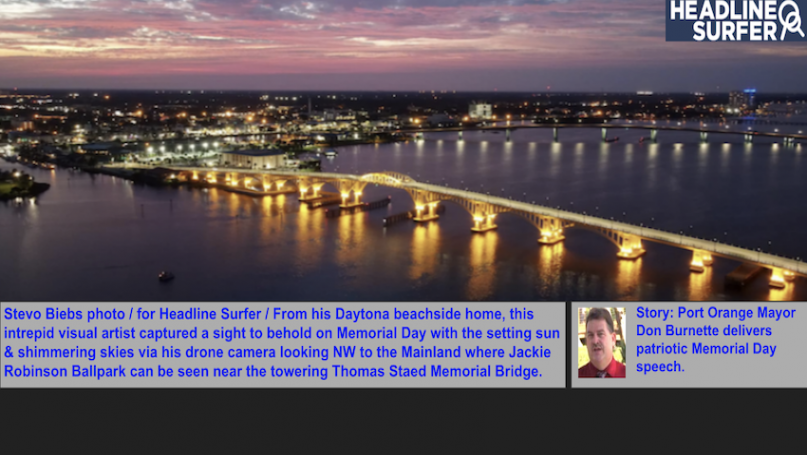 Counting 'em Down: For better or for worse, this is the Headline Surfer countdown of the 2021's Top 100 biggest news stories of Central Florida along the tourism-driven stretch of Interstate 4 (Orlando Attractions and east to I-95 & the World's Most Famous Beach in Daytona). Each recap segment is posted with its own headline, culminating with the unveiling of No. 1 on New Year's Day or shortly thereafter. Then Headline Surfer will post a Top 10 forecast story of the good, the bad & the ugly on the horizon in "2022: The Year That Lies Ahead." 
By HENRY FREDERICK / Headline Surfer
DAYTONA BEACH, Fla. -- Memorial Day was three days in the rear window of time as this tourism-starved mecca remains etched in the thoughts of locals and day-trippers alike. 
Etched in the thoughts of politicians and merchants alike as Daytona, the eastern-most end of the I-4 corridor and an hour's drive from the largest tourism-mecca on the planet  - Orlando, with Disney and the Attractions.
And perhaps as the grip of the deadly COVID-19 pandemic has finally begun to ease in earnest with Memorial Day weekend - so packed with people that cops had to shut down the bridges to ease the traffic congestion for those headed to the World's Most Famous Beach for sun, sand and the curling waves.
And even with the beach bikini and surfer enthusiasts delighting in the fun in the sun, there were elected municipal leaders who fulfilled their patriotic duties of respect and humility for those who have sacrificed their lives in military service to their country.
For it was in remembrance of country and honor that individuals like Port Orange Mayor Don Burnette showed through virtue and respect what real leaders say and do on a sacred national holiday like Memorial Day, despite the partisan pettiness in Washington and the continuation of the Big Lie along with the hypocrisy of those who cower and cater to Donald Trump, who in the days following this national holiday is ramping up conspiracy theories of being reinstated to the presidency as early as August.
And ironically when disgraced felon Joel Greenberg is set to be sentenced; paving the way for the expected trial of the century of Congressman Matt Gaetz, the defiant Republican whose smirk remains his trademark.
But this story is about what was and could be for greater Daytona emerging from the pandemic during a holiday when no truer words were spoken than during the Memorial Day Ceremony at the Port Orange City Center: 
"We owe it to those that gave all for our freedom," Mayor Burnette said, his head bowed in respect for the fallen, adding, "That comes with an obligation to serve each other and live our lives in a manner that honors their sacrifices." 
This was not about Burnette or his personal politics.
This was vintage Don Burnette, part-time mayor, husband, father and small business owner giving back to the community he has so admirably led by example for a decade now, first half as an elected commissioner and the latter as mayor. 
Burnette's message was not lost on city resident John R Cameron Jr, who thanked the mayor in a post on his Facebook page for his passion and message being "right on."
"Be thankful and be appreciative for the sacrifice of others and your duty is to pay that forward," was Cameron's read on Burnette's theme.
And what better encouragement for better times in family-oriented Port Orange where Burnette and wife, Elizabeth, herself new to elected service with a seat on the Volusia County School Board, where the married couple raised their two sons to young adulthood.
Elected leaders Don and Anita Reber Burnette are mindful of the economic plusses tourism-driven Daytona generates for its suburban municipalities like Port Orange, Ormond Beach, Holly Hill, South Daytona, and Daytona Beach Shores.
Posted: Aug. 4, 2020 / By Sera King / Headline Surfer 
About the Byline Writer: Henry Frederick is a member of the working press and publisher of Headline Surfer, the award-winning 24/7 internet news outlet launched in 2008, that serves greater Daytona Beach, Sanford & Orlando from Lake Mary, Florida via HeadlineSurfer.com. Frederick has amassed close to 150 award-winning bylines in print & online. He earned his Master of Arts in New Media Journalism from Full Sail University in 2019. He was a breaking news reporter (metro cops & courts beat) for the Daytona Beach News-Journal for nearly a decade. And Before that worked the same beat for The Journal-News/Gannett Suburban Newspapers in Rockland/Westchester counties, NY, dating back to 1989. Having witnessed the execution of serial killer Aileen Wuornos in Florida's death chamber and covering other high profile cases, Frederick has appeared on national crime documentary shows on Discovery ID, Reelz, and the Oxygen Network series "Snapped" for his analysis. • Award-Winning Journalism: Florida Press Club recognizes Headline Surfer for nine stories in 2020 statewide competition. • Award-Winning Journalism of Henry Frederick.