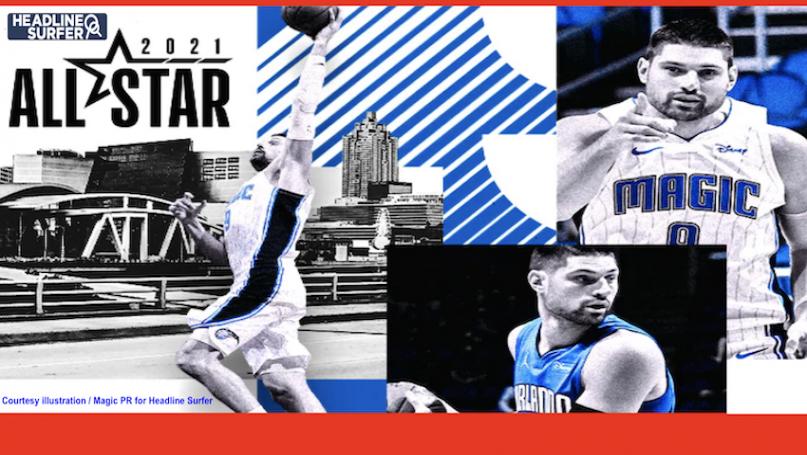 Counting 'em Down: For better or for worse, this is the Headline Surfer countdown of the 2021's Top 100 biggest news stories of Central Florida along the tourism-driven stretch of Interstate 4 (Orlando Attractions and east to I-95 & the World's Most Famous Beach in Daytona). Each recap segment is posted with its own headline, culminating with the unveiling of No. 1 on New Year's Day or shortly thereafter. Then Headline Surfer will post a Top 10 forecast story of the good, the bad & the ugly on the horizon in "2022: The Year That Lies Ahead." 
By SERA KING / Headline Surfer
ORLANDO, Fla. -- Nikola Vucevic was the lone Orlando Magic player named to the 2021 NBA All-Star game in Atlanta in March, the National Basketball Association announced.
It was Team LeBron vs. Team Durant in the 70th NBA All-Star Game at the State Farm Arena in Atlanta (8 pm ET Sunday, March 8, and shown live on TNT). 
Vucevic, the 6-foot-11 center, was a reserve on Kevin Durant's squad. 
This marked the second time that Vučević had been selected as an NBA All-Star during his career. He also earned NBA All-Star honors in 2019. Vucevic became the sixth player to be named an NBA All-Star multiple times while wearing a Magic uniform, joining Shaquille O'Neal, Anfernee Hardaway, Tracy McGrady, Grant Hill, and Dwight Howard.
Vucevic had played and started in all 31 games this season, averaging a team-high 24.1 points per game, a team-high 11.7 rebounds, 3.6 assists, 1.10 steals in 33.8 minutes.
Vucevic also led (or tied) the Magic in scoring 20 times, in rebounding 23 times, and in assists seven times. He has scored in double figures in all 31 games, had 20-plus points 21 times, 30-plus points seven times, and 40-plus points twice, including a career-high 43 points on Feb. 5 vs. Chicago. He has also recorded a team-high 22 double-doubles. As of Feb. 23, he is tied for third in the NBA in double-doubles, ranks sixth in rebounding, 18th in scoring, and tied for 30th in minutes played.
Line-ups:
LeBron James of the Los Angeles Lakers was joined in the starting line-up by Milwaukee Bucks forward Giannis Antetokounmpo, who was selected by James with the first overall pick in the NBA All-Star Draft. Joining Antetokounmpo and James as Team LeBron starters were Golden State Warriors guard Stephen Curry, Dallas Mavericks guard Luka Dončić and Denver Nuggets center Nikola Jokić.
Team LeBron's reserves were Portland Trail Blazers guard Damian Lillard, Philadelphia 76ers guard Ben Simmons, Phoenix Suns guard Chris Paul, Boston Celtics guard Jaylen Brown, LA Clippers forward Paul George, Indiana Pacers forward Domantas Sabonis and Utah Jazz center Rudy Gobert.
Kevin Durant of the New Jersey Nets was joined by teammate and guard Kyrie Irving, drafted by Durant with the second overall pick in the NBA All-Star Draft. In addition to Irving, Durant selected 76ers center Joel Embiid, Clippers forward Kawhi Leonard, Washington Wizards guard Bradley Beal and Celtics forward Jayson Tatum as starters.Tatum, voted to the NBA All-Star Game as a reserve, was drafted with the starters as a replacement for Durant, who was unable to play in the game.
Team Durant's reserves were Nets guard James Harden, Suns guard Devin Booker, New Orleans Pelicans forward Zion Williamson, Chicago Bulls guard Zach LaVine, New York Knicks forward Julius Randle, Orlando Magic center Vucevic and Jazz guard Donovan Mitchell. Lakers forward Anthony Davis, unable to play in the NBA All-Star Game, had been assigned to Team Durant because the player who replaced him (Booker) was selected by Team Durant. 
The exhibition game was originally scheduled to be held in Indianapolis, but it was relocated to Atlanta after schedule changes due to the COVID-19 pandemic.
PostScript:
Team Lebron won the 2020-21 NBA All-Star Game, 170 to 150 over Team Durant on March 7, at State Farm Arena in Atlanta, home of the Atlanta Hawks. Giannis Antetokounmpo of Team LeBron was named the All-Star Game Most Valuable Player. Nikola Vucevic scored 5 points off the bench for Team Durant. He also had 7 rebounds, a steal and an assist in 13 minutes of play. 
Less than three weeks after the ALL-Star contest, the Bulls shipped out Wendell Carter Jr., Otto Porter Jr. and top-four protected first-round picks in 2021 and 2023 in exchange for Magic players Vucevic and Al-Farouq Aminu in a March 25 NBA Deadline trade. Two other key Magic payers were jettisoned in separate trades: Aaron Gordon to Denver and Evan Fournier to Boston. These and other developments with the Magic in 2021 will be featured later in this Headline Surfer Top 100 countdown.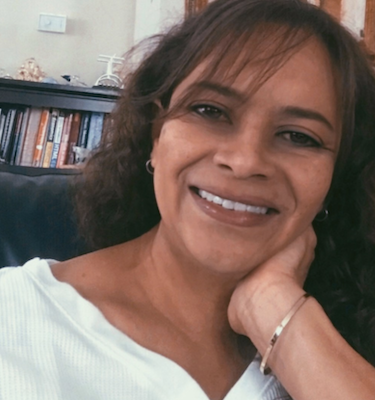 About the Byline Writer: Sera King is associate publisher of Headline Surfer, the award-winning 24/7 internet news outlet in Lake Mary, FL serving greater Orlando, Sanford, and Daytona Beach via HeadlineSurfer.com since 2008. She's also a byline writer (business, community & sports features), a videographer, and a cartoonist for the media outlet. King received her bachelor's degree in Business Administration from the Metro Orlando Campus of Ana G. Mendez University in 2008. Headline Surfer is published by Henry Frederick, Central Florida's award-winning journalist.
2021 TOP 100 COUNTDOWN (so far):
2020 TOP 100 COUNTDOWN (final):