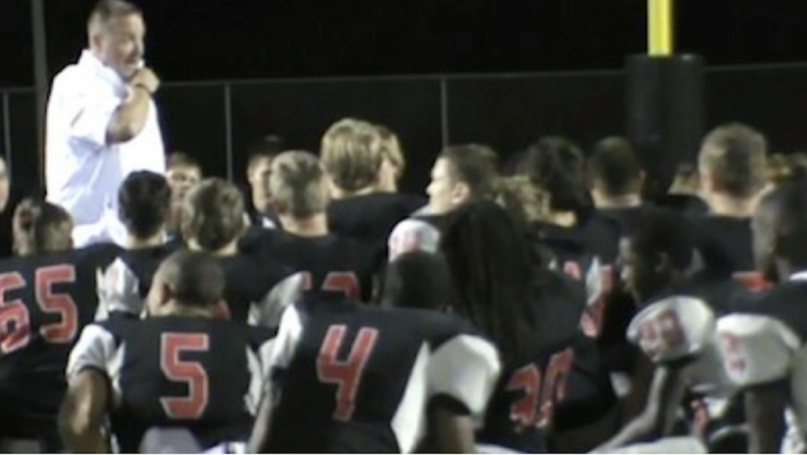 Headline Surfer videos produced by Multimedia Editor Sera King / Cudas head coach Lance Jenkins talks about the pounding 56-0 victory over winless 9-6A district foe Deltona Friday night at Homecoming in the video after praising the team as shown in the photo below. The Cudas are one win away from an undefeated regular season. Homecoming was delayed for a week by Hurricane Sandy.
By HENRY FREDERICK
Headlin Surfer
NEW SMYRNA BEACH, Fla. -- The Cudas ran all over Deltona for a 56-0 wiin during Homecoming and now stand a win away from a perfect regular season, thanks to four touchdowns by D'Cota Dixon with three touchdown runs and an interception returned for a touchdown.
And that doesn't even account for a third TD run by Dwayne Wood and two scoring TDs by QB Marcus Johnson, all before halftime, for a commanding 49-0 lead.
Johnson got things going for the Cudas with a 52-yard TD pass to Clark in New Smyrna Beach's initial drive. The second TD pass from Johnson was hauled in by Diamonte Mitchell for 27 yards. Dwayne Wood added to the offensive fie power with a 5-yard touchdown run in the first quarter to make it 49-0.
Thanks to the Cudas' strong offensive line, Dixon found easy holes, bursting for touchdown runs of 1, 10, and 20 yards. The junior was equally explosive on the defensive side of the ball, picking off a pass and taking it 31 yards into the end zone less less than 2 minutes in the first half.
Headline Surfer photos by Serafina Frederick / The Deltona Wolves could not generate any offense against the Cudas en route to a 56--0 loss in a winless season.
In the second half, winless Deltona could do nothing on offense against the Cudas' bruising defense, holding the Wolves' offense to a measly 27 yards, and with the Cudas' strong ground game on offense, it was simply a matter of running down the clock. 
The Cudas, now 8-0, can finish the regular season undefeated for the first time since 1999, with a win Friday at the New Smyrna Beach Sports Complex against Spruce Creek.
New Smyrna Beach, district 9-6A champion with four conference wins, hosts a playoff game the following week against Winter Haven, regardless of the outcome of the Spruce Creek game.
The score was 49-0 before the Homecoming pageantry halftime show.
Headline Surfer videos by Multimeda Editor Sera King /
The 'Cudas had lots of reasons to be happy. The football team won big time and Dallas Macdermant and Shanleigh O'dell were named Homecoming king and queen, respectively.
The King and Queen court of the New Smyrna Beach Homecoming game on Oct. 26. Left to Right 1st Row: Shar'Quan Baker, Sara Cronk, Jennifer Pugh, Sofia Trotta, Sierra Selman, Isabel Trotta, Jessica Armitage, Shar'Quayla Baker Left to Right 2nd Row: James Clark, Jonah Power, Dallas Macdermant, Dillion Macdermant, Brandon Amendolare, Desmond Mitchell, Tayler Selby, Edwin Navarro, Corbin Lyles, Dexter Dixon Not pictured: Shanleigh O'dell and Brianna Sanders.