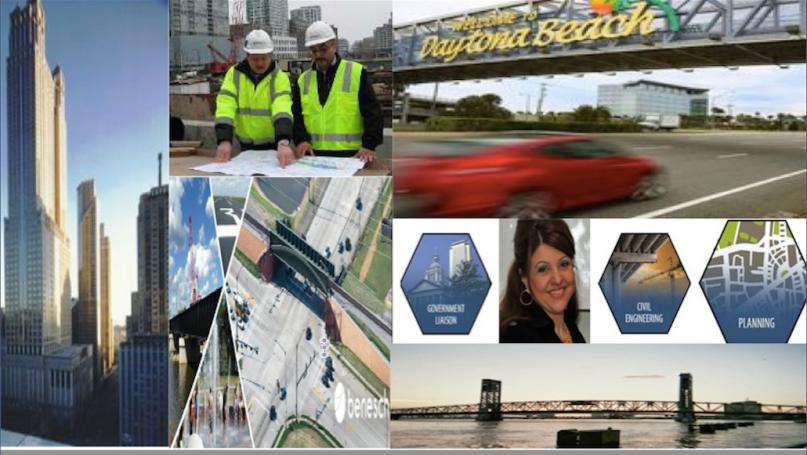 By HENRY FREDERICK
Headline Surfer
ORMOND BEACH, Fla. -- Maryam Ghyabi may be a big fish in a small pond in Central Florida with her Ormond Beach-based transportation planning and engineering firm, where she clearly has been the standard bearer over the years on major projects, but her company has merged with one of the country's engineering giants headquartered in Chicago -- Alfred Benesch & Company.
The Ghyabi & Associates merger expands Benesch's Southeast US region, bringing additional capacity to the firm's service profile in the areas of roadway planning and design, traffic and public involvement, but it is Ghyabi's expertise that is key to this corporate marriage.
"We are excited to now be in Florida and build upon the success that Ghyabi & Associates has built over the last 20 years," John Carrato, president & CEO of Benesch, said in a statement posted on the company's website.
The combined firm will have more than 600 employees, located in offices throughout 16 states: Colorado, Connecticut, Florida, Georgia, Illinois, Indiana, Kansas, Massachusetts, Michigan, Missouri, Nebraska, North Carolina, Ohio, Pennsylvania, Tennessee and Wisconsin.
Headline Surfer reached out to Ghyabi at 4:30 p.m., but an administrative assistant said she was in a closed-door meeting. Ghyabi returned the call at 5:01 p.m. and spoke at length with the internet news outlet about the merger and why it not only helps both engineering firms, but ultimately the citizens here in the Sunshine State where tourism is Florida's economic engine, especially in the Orlando, Daytona and Jacksonville markets.
Jacksonville is home to the NFL Jacksonville Jaguars, Daytona is home to Daytona International Speedway and NASCAR's premier race, the Daytona 500; and Orlando is home to the attractions -- with Disney and Universal Studios as the main draws, and City Beautiful is home to the NBA's Orlando Magic. And while the attractions clearly are the draw of tourists, Daytona and Jacksonville have the added benefits of the beaches.
Ghyabi understands and appreciates her company's role in securing contracts with state and federal governmental agencies to continue developing modes of transportatiuon to move citizens and tourists alike in their destinations -- be it for work or for fun in the sun -- through raod and bridge projects and rail design in furtherance of stronger mass transit.
While financial terms of the merger were not disxclosed by either company, Ghyabi said there are still some inside details to be ironed out, but the merger is a go. And sureprisingly, it was Ghyabi, herself, who initiated it.
"I hadf been looking for a company that was strong like Benesch for at least a year-and-a-half," she freely offered without hesitatiion.
Editor's Note: This story is incomplete...