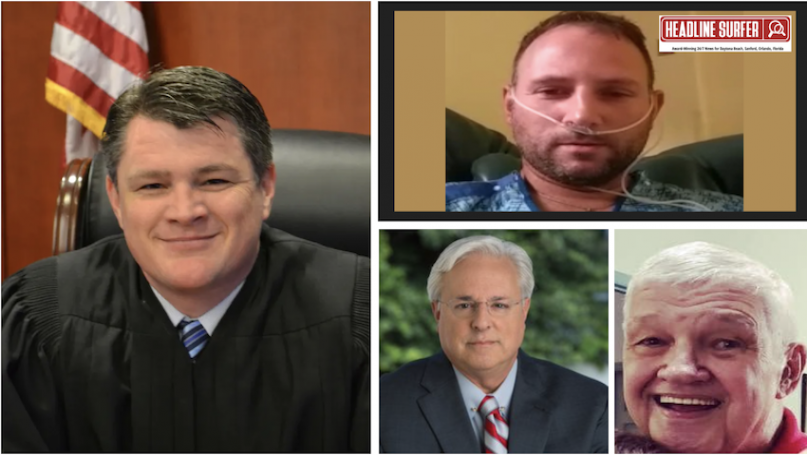 Headline Surfer photo illustration / Circuit Judge Steven Henderson, shown at left, is hospitalized with COVID as is WNDB radio talk show host Marc Bernier. Port Orange City Councilman Chase Tramont, above, right, was in and out of the hospital for the virus. George Mirabel, for exec director of the Daytona Chamber, died while hospitalized fgor COVID on Tuesday. Only Mirabel was vaccinated, but he had underlying immuno-compromised health issues that led to his death. 
 By HENRY FREDERICK / Headline Surfer
DAYTONA BEACH, Fla. -- Circuit Judge Steven C. Henderson is the latest high-profile public figure in in greater Daytona hospitalized with COVID-19, and like most of the others hospitalized, was not vaccinated, according to well-placed sourves in the judiciary.
Chief Judge James Clayton released a statement from Henderson's wofe late Friday that reads: "My husband, Judge Steve Henderson, has tested positive for the COVID virus. He is presently at the hospital and responding well to treatment. My family thanks everyone for their prayers and concerns."
Henderson's vaccination status was not released with the statement and Clayton could not be reached after hours. However, several trusted sources within the judiciary said Henderson was not vaccinated against COVID-19.
Henderson, who presides over family law cases at the Volusia County Courthouse Annex at City Island in Daytona Beach, was appointed to a circuit judgeshipback in 2017. Prior to that, he was appointed to a position as county judge in 2012. Henderson worked eight years as a prosecutor in the 7th Circuit, which encompasses Volusia, Flagler, Putnam and St. Johns counties.
Well-placed sources within the judiciary and legal circles say Henderson was  opposed to getting vaccinated. Likewise, Headline Surfer sources in political circles close rto Tramont and other local Republicans was fundamentally opposed to the vaccine.