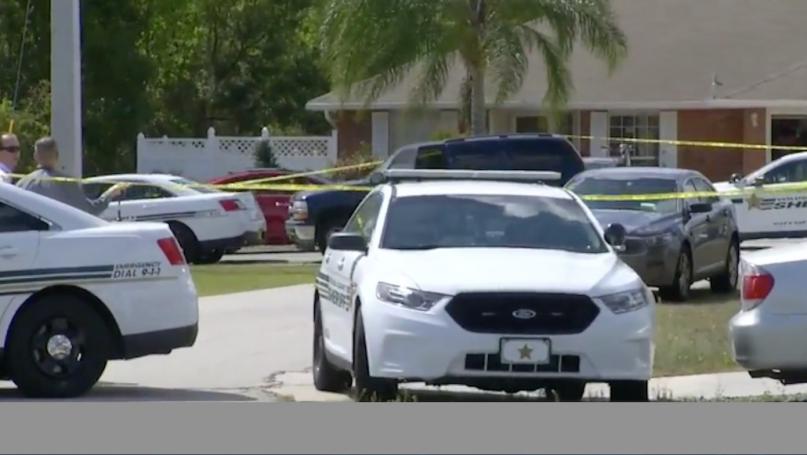 Photos for Headline Surfer / Above, All these Volusia County Sheriff's Office cars in front of slain Deltona resident Brian Walsh's home in the 2300 Block of Fountain Road on Saturday meant less deputies out on the road looking for his killers who remained at large early Monday morning.
By HENRY FREDERICK
Headline Surfer
DELTONA, Fla -- Headline Surfer was not notified by the Volusia County Sheriff's Office of a homicide that occurred Saturday in Deltona in which two suspects in a Dodge Dart who were seen fleeing after gunning down a 40-year-old man in the 2300 block of Fountain Road, who was transported to Florida Hospital Fish Memorial in Orange City, where he was pronounced dead shortly after arrival. 
Here's a synopsis posted later on the VCSO Facebook page after all media outlets in Central Florida except for Headline Surfer received an email alert described as follows: "The Sheriff's Office began receiving multiple 911 calls at 12:01 p.m. reporting the shooting in the 2300 block of Fountain Road. 'Shots fired, shots fired,' one excited caller reported. 'Someone's hit, please hurry.' Deputies began arriving at the scene four minutes later to find the victim, Brian Walsh, bleeding in the backyard of 2355 Fountain Road. Walsh was breathing, but unconscious at the time and later died at the hospital."
The victim lived at the residence where the shooting took place, according to the Sheriff's Facebook posting. Several other family members were also there at the time and are being interviewed by Sheriff's detectives to determine what sparked the shooting. Witnesses reported seeing two black men at the scene who fled in a black-colored Dodge Dart.
Anyone with information is asked to call the Sheriff's Office or Crime Stoppers of Northeast Florida, toll-free, at (888) 277-TIPS. Information also can be submitted by downloading the smartphone app from the Crime Stoppers web site (http://www.westopcrime.com/). Callers to Crime Stoppers will remain anonymous and can qualify for a reward of up to $5,000.
Headline Surfer was not informed of the homicide by the VCSO as its name and contacts were removed from the agency's PIO email media alert listing on Jan. 1 when Mike Chitwood took office as sheriff.
Chitwood's action is a continuation of a personal grudge has head against the internet news outlet since it one two journalism awards in 2012, from the Florida Press Club for an in-depth story  \on his promotion of a patrol supervisor to captain while he was police chief in the in Daytona Beach Police Department despite the promoted extensive allegations noted in the promoted supervisor's personnel file of harassment against women cops under his direct supervision.
Headline Surfer also was banned from attending Chitwood's press conference under threat of arrest as relayed by one of his public information officers.