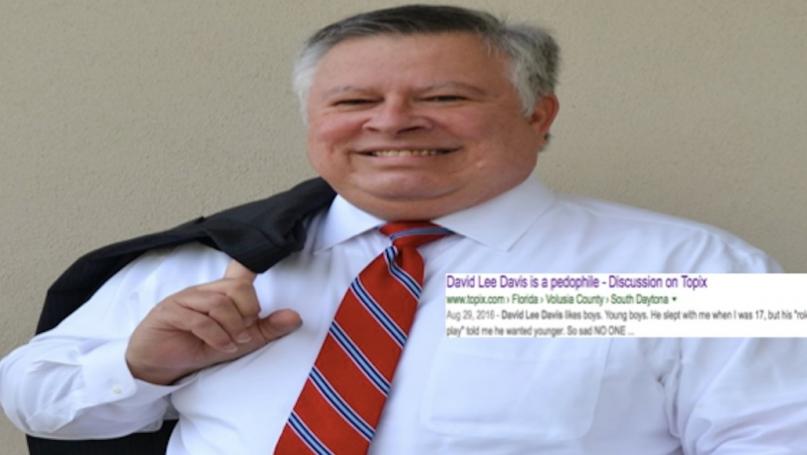 Photos for Headline Surfer / David Lee Davis is shown above, along with a screen shot of the google search for the Aug. 29. posting on the online site, Topix, that was taken down earlier on this Monday, less than a day after Headline Surfer wrote a story about the allegation against Davis, who described it as a 'disgusting accusation.' 
By HENRY FREDERICK
DAYTONA BEACH, Fla. -- Less than a day after Headline Surfer reported that an online site called Topix had a posting alleging David Lee Davis, the failed candidate in the Aug. 30 Volusia County primary and a substitute teacher, is a pedophile, the unsubstantiated allegation was taken down. 
However, the unsubstantiated accusation still shows up in the google search engines.
Davis did not return messages for comment from Headliner Surfer inquiring as to whether the posting was taken down at his behest. He described it in a return message for comment on Sunday as a "disgusting accusation," but otherwise would not comment as to whether he knew the person posting it or whether the allegation was true or false.
The posting in the Topix forum in the Daytona Beach section and headlined, "David Lee Davis is a pedophile," was placed by someone identified only as "Jtr" of Mason, Ohio, which is Davis' home state. The poster stated as follows: "David Lee Davis likes boys. Young boys. He slept with me when I was 17, but his 'role play' told me he wanted younger. So sad NO ONE KNOWS WHO THIS MAN REALLY IS!!" 
The posting had been up since Aug. 29.
Headline Surfer discovered it after receiving an anonymous tip that Davis had been involved in some kind of police sting regarding a sex crime and googled his name with combinations of key words such as "sex," "sting," "police," "Ohio" and "Florida." And that is when the Topix headline with Davis' name popped up, along with the Daytona Beach section as well as separate listings with the same headline with Volusia County, Ormond Beach and South Daytona listed separately in the Goggle search engines.
When Headline checked to see if the forum posting was still up or if there were any additional comments added early this afternoon, all that remained in the search engine was the South Daytona section reference with Davis' name in the accusatory headline in the search page on Google. But in clicking it in the search, the Aug. 29 posting with the pedophile allegation against Davis had been removed. There was no indication from Topix if it had taken down the accusation at Davis' request or as a result of complaints from anyone else.
One of four posters who responded to the Topix forum comment identified as "Butch" from New Smyrna Beach posted the following on Sept. 6: I think the people in Volusia County figured out that he was a phony and a blowhard. I am surprised and disappointed that he got as many votes as he did. Must have been the 'beach people' voting for him. Most of them have been out in the sun too long!"
Davis finished third among four candidates in the Aug. 30 primary for Volusia County Supervisor of Elections, won outright by Lisa Lewis, who was appointed by Gov. Scott in May to replace Ann McFall, who retired. Lewis had been the deputy supervisor for 10 years.
Lewis received 54,404 votes or a whopping 64.2 percent, with Teresa Apgar finishing a distant second with 12,371 votes or 14.6 percent, Davis in third with 10,497 votes or 12.39 percent and Bill Fyfe fourth with 7,470 or 8.81 percent of the votes.
Previous Day's Coverage: