Headline Surfer photo illustration / Michael McDowell wins the Daytona 500 in a last-lap multi-car crash at Daytona International Speedway in Daytona Beach, Florida, on Sunday, Feb. 14, 2021. 
By HENRY FREDERICK / Headline Surfer
DAYTONA BEACH, Fla. -- Nobody counted on Michael McDowell winning his first NASCAR race - never mind that it was the biggest race of his life - the world famous Daytona 500.
But that's exactly what the upstart driver did by avoiding a last-lap multi-car crash to take the checkered flag on the high banks of Daytona International Speedway.
"I can't believe it," McDowell said while donning a COVID-19 mask after the victory Sunday night under the lights under the lights at Daytona International Speedway in a race delayed by rain and several big crashes,  "I've got to thank God. So many years of just grinding it out, hoping for an opportunity like this. I've got to thank (team owner) Bob Jenkins for giving me this opportunity. I'm so thankful. "What a great way to get a first victory — in the Daytona 500!"
"I can't believe it," McDowell said while donning a COVID-19 mask after the victory Sunday night under the lights Daytona International Speedway in a race delayed by rain and several big crashes.  "I've got to thank God. So many years of just grinding it out, hoping for an opportunity like this. I've got to thank (team owner) Bob Jenkins for giving me this opportunity. I'm so thankful. "What a great way to get a first victory — in the Daytona 500!"
And here are some fast facts on the big race: 
• McDowell, who led only the final lap at 2.5-mile Daytona International Speedway, is just the eighth driver to get his first Cup win in The Great American Race since its inaugural run back in 1959.
• McDowell's victory is the third for Front Row Motorsports -- all coming in the No. 34 Ford with three different drivers: David Ragan at Talladega Superspeedway, Chris Buescher at Pocono Raceway and McDowell at Daytona.
• And according to Racing Insights, McDowell's 358 starts before his first win here is the second-longest streak to Michael Waltrip's 463, which also ended with a Daytona 500 victory back in 2001 when  racing legend Dale Ernhardt was killed in a last lap crash coming off Turn 4 trying to protect the 1-2 punch of his drivers Waltrip and then-young son, Dale Earnhardt, Jr. 
Chase Elliott, the reigning NASCAR Series champion, finished second after contact between the Team Penske Fords of Brad Keselowski and Joey Logano ignited the final wreck, sending the Toyota of Kyle Busch rocketing into the outside wall. When NASCAR illuminated the caution lights, McDowell was in the lead over Elliott by a car length. 
"I saw the lights come on (for the caution), and I knew it was over right then,"  said a dejected Elliott, who has yet to win his first Daytona 500. "We had a fast car. We weren't as good as I thought we were on Thursday (in the Duel 150-mile qualifying race). I thought we did a really good job of executing today, staying out of trouble."
Elliott continued, ""That's not something I've done a very good job of here in this race, so I'm glad we could at least finish this race and have something to build on for when we come back and try to do better."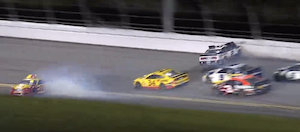 Photos for Headline Surfer / Race leader Joey Logano is bumped on the final lap, allowing Michael McDowell in the No. 34 Love's Ford Mustang to take the lead and race across the finish line for the win in the 2021 Daytona 500.
Austin Dillon, the 2018 Daytona 500 champion, finished in third, followed by Kevin Harvick, the 2007 Daytona 500 winner, and then Denny Hamlin, who fell short in his attempt to win a record third straight Daytona 500.
2-time defending Daytona 500 champ Denny Hamlin takes race lead in 2nd stage
Hamlin won the first two stages of the 2021 Daytona 500, but lost the lead during the final cycle of green-flag pit stops when the small contingent of Toyotas got separated while leaving pit road.
Hamlin took the lead in the second stage after a cycle of green-flag pit stops and held it through the fifth caution of the race, which waved when Joe Gibbs Racing teammate Christopher Bell cut a left-rear tire and spun into the Chevrolet of Ricky Stenhouse Jr.
At that point, Hamlin had led 58 laps, bringing his total of laps led in the Daytona 500 to 434, fifth all time and one ahead of Bobby Allison. Hamlin had led 34 consecutive laps to win Stage 1 after racing resumed Sunday night. He finished with a race-high 98 laps led.
But on Lap 14, before a long rain delay, off-center contact from Bell's Toyota to the rear bumper of Aric Almirola's Ford sent Almirola spinning near the front of the field, triggering a massive 16-car pile-up that inexorably altered the complexion of the race.
"We were just getting pushed too hard too early," Almirola explained. "It's a long, long race. Man, we were in a fine position, just sitting there riding around in the top two, three, and the 20 (Bell) just came with a big run and hit me really hard in a bad spot and it turned me to the right and tore up our race car and ended our Daytona 500 way too early." 
Lightning Strikes and heavy rain delays race
Collected in the wreck were Ryan Newman, making his first Daytona 500 start since the devastating last-lap wreck that put him in the hospital a year ago; Erik Jones, in his first start in a points race for his new team, Richard Petty Motorsports; Daniel Suarez, in his first run with newly formed Trackhouse Racing, a joint venture between Justin Marks and rapper Pitbull; and the pole-sitter, Alex Bowman, whose No. 48 Chevrolet was wiped out when Almirola shot up the track and into the side of his car, ramming it into the wall.
"It looks like the No. 10 (Almirola) kind of got turned sideways there, and I was the guy that got ran into," Bowman said after emerging from the infield care center. "Bummer – I hate it for (sponsor) Ally. Obviously, we had a really fast Camaro. The Chevrolets were working good together; hopefully, a Chevy still ends up in Victory Lane. 
But alas it was a Ford - McDowell's Mustang with duct tape holding together crumpled metal in what was a brutal race to the end.
"Hats off to everybody at Hendrick Motorsports; they built some really fast race cars," Bowman readily acknowledged. "Hate that super speedway racing works out that way sometimes, but that's just part of the game."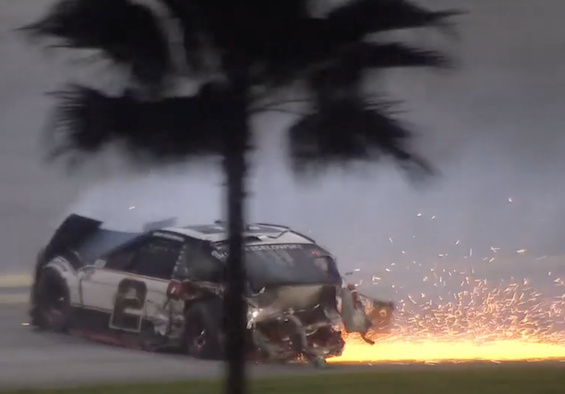 The No. 2 Ford of Brad Keselowski is absolutely crunched in the last-lap wreck in the Daytona 500, ending any hope of. win for Team Penske.
Also heavily damaged in the melee were the cars of William Byron, Kurt Busch, Tyler Reddick, Ryan Blaney, Chris Buescher, David Ragan, Jamie McMurray and Matt DiBenedetto.
To add insult to injury, nearby lightning strikes delayed the restart of the race and heavy rains followed shortly thereafter.
Five hours and 40 minutes later, after the rain finally let up, the track was dried by the Jet dryers driven around the track over and over again before race car engines were re-fired at 9:07 p.m. ET, and the race resumed with 24 cars on the lead lap.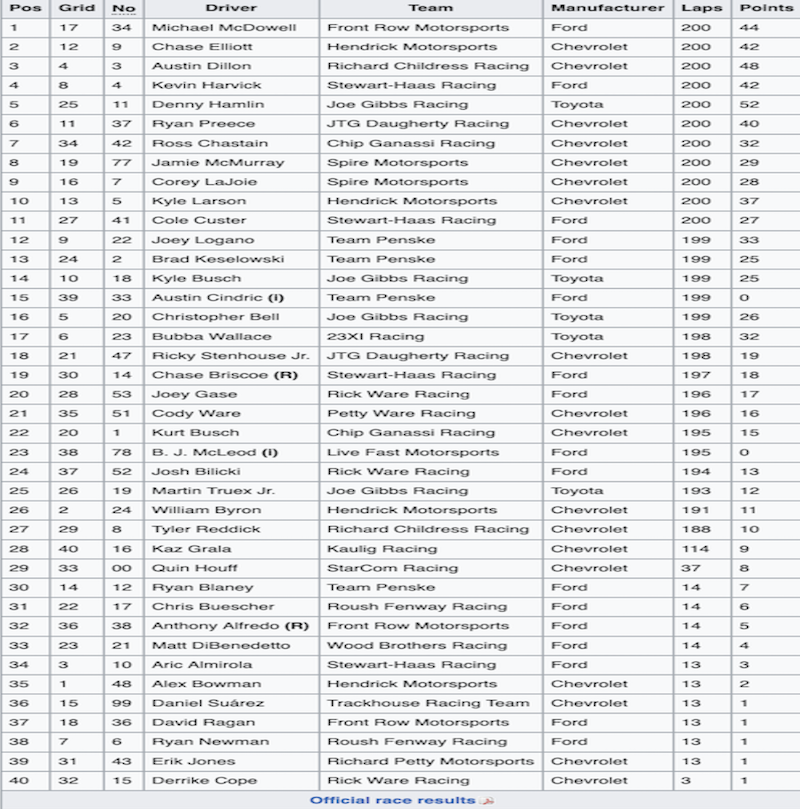 Racing Notebook:
• In his first points race for the new 23XI Racing team co-owned by Denny Hamlin and the NBA's Michael Jordan, Bubba Wallace ran near the front of the pack throughout the race but lost a lap with an unscheduled pit stop for a vibration on Lap 178 of 200.
Wallace was caught up in the last-lap wreck and finished 17th.  
• Kyle Larson ran 10th in his first trip in the No. 5 Hendrick Motorsports Chevrolet Camaro.
• Austin Cindric's strong Cup debut ended in the last-lap wreck that claimed three Team Penske cars: Ryan Preece, Ross Chastain, Jamie McMurray and Corey LaJoie claimed the sixth through ninth finishing positions, respectively.
• Because of the ongoing COVID-19 pandemic, seaingt for the Daytona 500 was limited to 30,000 paying fans with social distancing and tempeture taking protocols in place. The venue normally seats 101,00o spectators.
Replay: 2021 Daytona 500 / NASCAR video / YouTube embedding.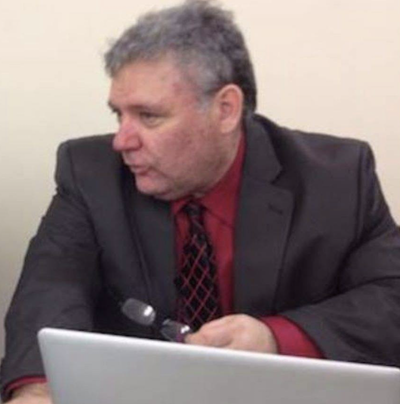 About the Byline Writer:
Henry Frederick is a member of the working press and publisher of Headline Surfer, the award-winning 24/7 internet news outlet launched in 2008, that serves greater Daytona Beach, Sanford & Orlando, Florida via HeadlineSurfer.com. Frederick has amassed close to 150 award-winning bylines in print & online. He earned his Master of Arts in New Media Journalism from Full Sail University in 2019. He was a breaking news reporter (metro cops & courts beat) for the Daytona Beach News-Journal for nearly a decade. And Before that worked the same beat for The Journal-News/Gannett Suburban Newspapers in Rockland/Westchester counties, NY, dating back to 1989. Having witnessed the execution of serial killer Aileen Wuornos in Florida's death chamber and covering other high profile cases, Frederick has appeared on national crime documentary shows on Discovery ID, Reelz, and the Oxygen Network series "Snapped" for his analysis. • Award-Winning Journalism: Florida Press Club recognizes Headline Surfer for nine stories in 2020 statewide competition. • Award-Winning Journalism of Henry Frederick.
COPYRIGHT NOTICE: All written and visual content contained in this story is the sole intellectual property of Headline Surfer LLC and may not be copied in whole or in part without advance written permission via email from the publisher.