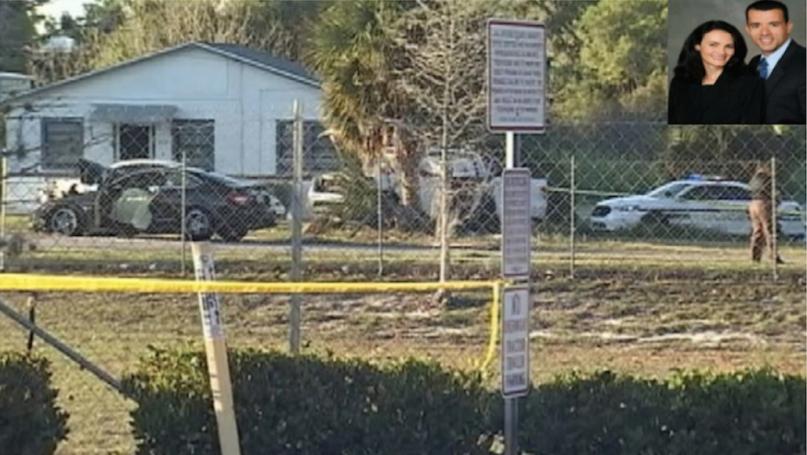 Photos for Headline Surfer / Mario Simoes fired several shots into the law practice he owned with his estranged wife, Kimberly Simoes before leadng DeLand cops and Sheriff's deputies on a high speed chase that culminated in his crashing his car and use of deadly force by two deputies and one DeLand cop, who collectively fired in excess of 20 rounds killing him.
By HENRY FREDERICK
Headline Surfer
DELAND, Fla. -- Sheriff Mike Chitwood's personal grudge against the award-winning internet news outlet continued for the 77th day as Headline Surfer was the last media outlet to learn the identity of the distraught attorney who apparently was drinking and suicidal when he fired shots at the law firm he shares with his estranged wife and co-counsel in their law practice on Sunday before fleeing in his Mercedes and engaging in a gunbattle with deputies and a DeLand cop before he was shot to death.
Here is a synopsis of the man killed and what occurred leading up to the use of deadly force as described by the what occurred according to the VCSO: The identity of the deceased in Sunday evening's shooting is 45-year-old Mario Simoes, of DeLand. The deputies who fired on him have been identified as Deputy Brant Lickiss, 26, hired July 7, 2014, and veteran Sgt. Mike Chilcot, 49, hired Oct. 18, 1993.
A preliminary investigation indicates deputies and police called for Simoes to drop the gun and/or show his hands in excess of 30 times during a span of about two minutes leading up to the moment they fired, the VCSO said in a prepared statement. 
Simoes fired several shots at a DeLand law office and later crashed at high speed into a pickup truck before he was fatally shot Sunday evening after refusing to drop his gun at the command of two Volusia County sheriff's deputies and a DeLand police officer.
The 45-year-old attorney was pronounced dead at the scene near Amelia Avenue and Old Daytona Road, behind a Publix grocery store and in front of a row of homes where he crashed his speeding Mercedes Benz.
"We have three independent witnesses who say it felt like two minutes, they just kept hearing deputies and DeLand police officers saying 'Drop the gun, drop the gun, drop the gun,' before he was fatally shot," Sheriff Mike Chitwood told reporters in a news briefing at the scene. Headline Surfer was not notified of the joint press conference.
The incident started with a 5:06 p.m. call from a third party who reported the man was at his wife's law office at 919 Biscayne Blvd., "shooting up the place" and was possibly suicidal. The caller said the suspect had been drinking and was very distraught over the couple's marital issues.
As deputies and DeLand officers arrived on scene, Simoes fled in his car at high speeds estimated up to 100 mph. After hitting stop sticks as he drove west on Old Daytona Road, he crashed into a Ford pickup driven by a husband and wife leaving the nearby Lowe's store. Deputies and officers approached the crash scene and saw that Simoes appeared to be reloading his gun, according to the VCSO press release, posted on its Facebook page. 
"After he refused the repeated commands to drop the weapon and made a move, the two deputies and one police officer all fired to stop the threat," according to the press release.
Acting DeLand Police Chief Randel Henderson said the agency's police officers receive training annually on how to handle situations involving people who are suicidal but ultimately law enforcement officials have to make quick decisions, the press release stated.
"We deal with the complexities of human behavior," Henderson was quoted as saying. "We never know at any given time what someone's thinking, what's going to punch their buttons and what's going to make them react. (Officers and deputies) very quickly have to look at a scenario that unfolds around them and act accordingly... We go out every day and we don't know what we're dealing with."
The husband and wife in the truck were able to walk away from the crash but were taken to an area hospital to get checked out. They were not identified.
The two deputies and the DeLand cop, whose identity was not released, were temporarily placed on paid leave as is customary during deputy- and officer-involved shootings. The Florida Department of Law Enforcement is investigating the shooting and the Florida Highway Patrol is investigating the crash.
Chris Bridges, the spokesman for the City of DeLand said that although DeLand PD had jurisdiction over the initial report of shots being fired into the law office and where the attorney ultimately lost his life, but because deputies also responded to the 9-1-1 calls he agreed to let the VCSO PIOs handle the media. Bridges said he was unaware that the VCSO had bypassed Headline Surfer, pointing out that he includes all members of the working press in his communications and alerts as has been the case with this media outlet.
Headline Surfer was included in the VCSO media alerts since its launch in 2009 under Sheriff Ben Johnson. But Johnson opted to retire after 16 years and Chitwood, then police chief in Daytona Beach, won the Aug. 30 primary outright, barely surpassing the threshold of 50 percent plus 1 vote over four other candidates to become sheriff on Jan. 1.
Two days later on Jan. 3, after Chitwood was sworn into office, Headline Surfer was among the media outlets proceeding from the swearing-in ceremony to a Chitwood's first scheduled press conference when the internet news site's reporter was asked to step aside by Chitwood's PIO manager, Gary Davidson, and told he was not allowed to attend the press conference. Davidson said not give a reason why.
Even though Davidson's staff sent out an invitation the week before that included Headline Surfer, Davidson said that was then and this was now. When Headline Surfer showed its working press card from the Sheriff's Office from 2016-2017, Davidson said that was no longer valid since the name of the sheriff on the card is Johnson and he was now retired. During the brief and terse interaction it was inferred that if Headline Surfer insisted on entering the press conference the reporter could be arrested and transported to the branch jail. And so the reporter left.
Davidson has been employed as a civilian PIO with the Sheriff's Office for 23 years, first with Sheriff Bob Vogel and then with Sheriff Ben Johnson. 
Sheriff Chitwood finally responded to Headline Surfer in an email on Jan. 11 stating Headline Surfer was not a legitimate media outlet, that it published lies and that he could set media policy as he saw fit. He did not respond when Headline Surfer asked him to elaborate on his claims and has refused several requests by the internet newspaper for a sit down meeting to iron out any differences.
This is not the first time Chitwood has acted in an arbitrary and capricious way to use his position to carry out a personal grudge. Back in 2012, Headline Surfer received two awards from the Florida Press Club for its in-depth story on Chitwood's promotion of a patrol supervisor to captain despite lengthy allegations in his personnel file of harassment of women cops under his supervision. This is a link to the story: 
Daytona's top cop ordered to add Internet newspaper back onto department's PIO e-mail media distribution list
December 8, 2012
Daytona police chief promotes patrol supervisor who taunted female cop for more than a year
May 14, 2012