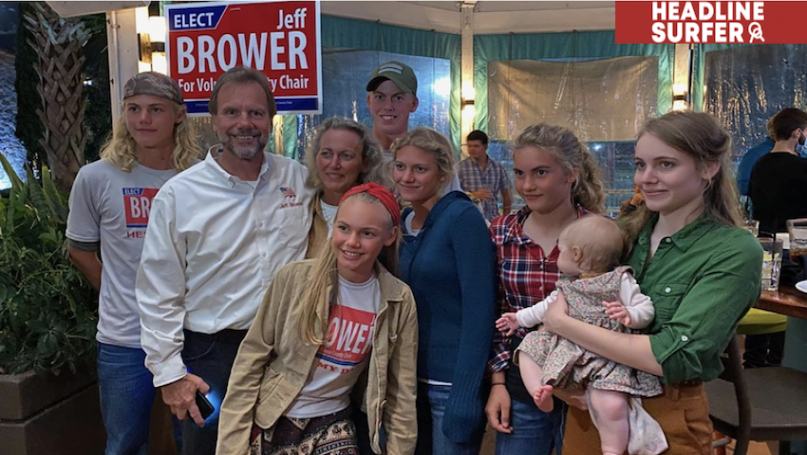 Photos for Headline Surfer / DeLeon Springs farmer Jeff Brower, a big winner in Tursday's Volusia County elections for county chair, is shown with his large family.
By HENRY FREDERICK / Headline Surfer
DAYTONA BEACH, Fla. -- Despite being outspent by a 3-1 margin, Jeff Brower easily won the Volusia County's top seat over Deb Denys.
Incumbents Billie Wheeler and Heather Post, also won their distreict 2 and 4 seats, respectively.
Brower overwhelmingly defeated Denys, capturing a whopping 57.6 percent of the votes in Tuesday's general election. 
Browewr received 150,823 votes to 111,235 for Denys in wqhat was a very contentious race.
Wheeler got by upstart Danny Fuqua, with 24,517 votes or 50.7 percent of the total to 23,862 or 49.3 percent for the challenger.
Post crushed Barbara Bonarrigo, garnering 31,093 votes or 58.5 percent of the total compared to 22,202 votes or 41.5 percent of the total.
Brower posted a statement on his Facebook campaign page earlier this morning stating, "Thank you Volusia County for responding to the only campaign that heard your voice and spoke to the issues you care about. You will now have real representation and a voice that will speak up for you. You really did take back your power and we are already going to work to protect your quality of life."
Denys did not post anything in defeat and did not avail herself to local media outlets.