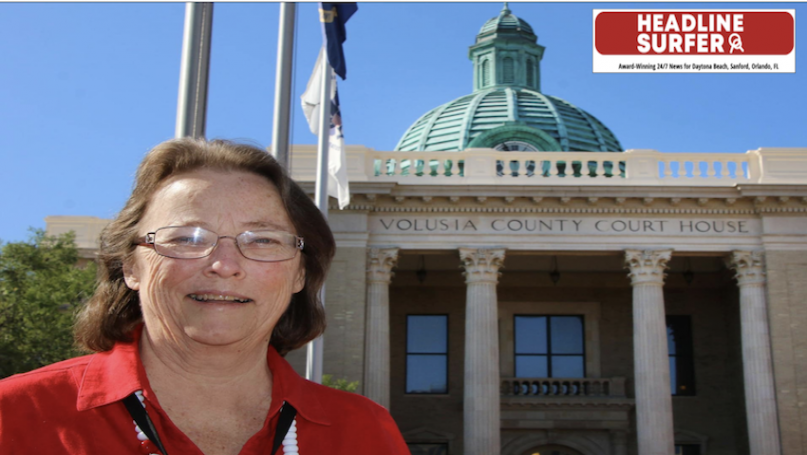 Photo for Headline Surfer / Ann McFall is shown in front of the historic Volusia County Courthouse in DeLand, Florida, in this undated still image. McFall died earlier today. She was 68 years old. 
By HENRY FREDERICK / Headline Surfer
DELAND, Fla. --  Ann McFall, described as a "champion for Volusia County," died this morning, according to Lisa Lewis, her successor as supervisor of elections, in a social media posting.
"This morning, the Honorable Ann McFall passed away peacefully," Lisa Lewis posted on her Facebook page. "Ann was a champion for Volusia County having served as Supervisor of Elections, on County Council and School Board."
"This morning, the Honorable Ann McFall passed away peacefully," Lisa Lewis posted on her Facebook page. "Ann was a champion for Volusia County having served as Supervisor of Elections, on County Council and School Board."
Lewis added of McFall, 68, of Deltona, who was married and was a mother and grandmother: "She opened schools, chaired boards and committees and brought new voting equipment to the county. Her dedication and commitment to this county was unwavering."
Lewis continued, "Today we remember Ann and thank her for all her service to our county."
Lewis, who succeeded McFall as supervisor of elections in 2016, told Headline Surfer that McFall "had some ongoing health issues" leading up to her death this morning at Advent Hospital in Orange City. Lewis did not elaborate.
Friends and colleagues reacted with sadness to the news.
"Such a wonderful and caring person," said longtime friend Mary Bruno, wife of former elected County chair Frank Bruno.  "I was blessed to work with her on both the school board and county council.We even shared our birthdays!"
Tappie Villane, another friend, added on Lewis' Facebook posting, "So sad, Ann was such an incredible lady. Thoughts and prayers for her family."
McFall was supervisor of elections from 2005 to 2016. Before that she served on the Volusia County Council and prior to that on the Volusia County School board where she was elevated to chair.
Headline Surfer reached out to former county chair and ex-longtime Ormond Beach Mayor Ed Kelley on McFall's passing. 
Kelley, who was elected county chairman in 2016, and who served in that office for four years before retiring from political office last year, had this to say about McFall when contacted this afternoon: "Ann served Our community for years professionally and competently with integrity."
McFall's age at passing a shock to some:
Like many others today who knew and worked with McFall over the years, some were especially shocked at news of her passing given she was only 68.
"Wow," reacted Port Orange Mayor Don Burnette when informed of her death by Headline Surfer in a text message.
"Very sad to hear of the passing of Ann McFall," Burnette responded. "She was a longtime admired public servant in our county. She did a lot of work to help modernize our elections office - (and) was a very fair-minded individual."
Burnette added, her passing is "a real loss for us all - my condolences to her daughter, Michelle, and the rest of her family."
Kathy Stewart, a longtime judicial assistant in circuit court, who retired at 54 from her job back in 2004, was shocked by the news, too, especially given McFall's age, having seen an earlier version of the Headline Surfer story in social media.
So sorry to hear that!" Kathy Stewart said. "Just way too young. My thoughts and prayers are with the family!"
Pat Northey: McFall fierce advocate for family & community
Former longtime county councilwoman Pat Northey, who was traveling, told Headline Surfer McFall in a series of messages that McFall would be remembered as "a fierce advocate for her family her community and was a trusted public servant." 
She started her service as a school board member and was "instrumental" in the opening of a number of new schools.
 "I will always remember our time for 10 days in 2000 when we served on the canvassing board during the Gore v. Bush election."
"Ann suffered no fools, especially some of the attorneys (on both sides)," Northey recalled. "We worked 12-hour days together. And I was always aware of her sense of fairness. 
Bio: Ann McFall
The following summary was provided by Ann McFall's daughter, Michelle McFall-Conte:
• Ann McFall began her public service career with the Deltona Municipal Services District Advisory Board, a panel established by Volusia County government to make recommendations on policies and improvements for the sprawling community before its incorporation as a city in 1996;
• In 1986, McFall ran for and won the District 5 seat on the Volusia County School Board. She was re-elected in 1990, during which she also served as chair;
• Defeated for re-election in 1994, McFall then campaigned  and won the  District 5 seat on the County Council,  including a stint as its chair;
• McFall was elected Volusia County elections supervisor in 2004 and served until 2016;
Coming Up:
Continuing Coverage on the passing of Ann McFall, including obituary info and more reaction coverage...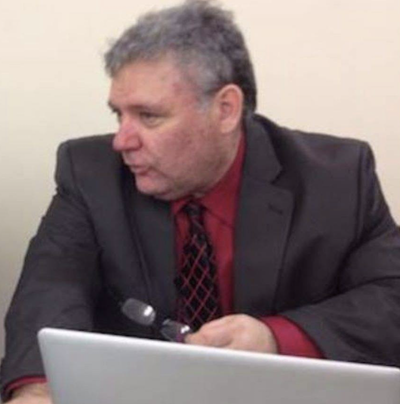 Henry Frederick is publisher of Headline Surfer, the award-winning 24/7 internet news outlet launched 12 years ago that serves greater Daytona Beach, Sanford & Orlando, Florida via
HeadlineSurfer.com
. Frederick has amassed more than a hundred journalism industry awards in print & online -- more than all other members of the working press combined in Central Florida since the mid-1990s. He earned his Master of Arts in New Media Journalism with academic honors from Full Sail University in 2019. Having witnessed the execution of serial killer Aileen Wuornos in Florida's death chamber and other high profile cases, Frederick has appeared on national crime documentary programs on Discovery ID and Reelz for his investigative reporting and cops & courts breaking news stories. 
Award-Winning Journalism of Henry Frederick
.  
COPYRIGHT NOTICE: All written and visual content contained in this story is the sole intellectual property of Headline Surfer LLC and may not be copied in whole or in part without advance written permission from the publisher of this Central Florida online news site.