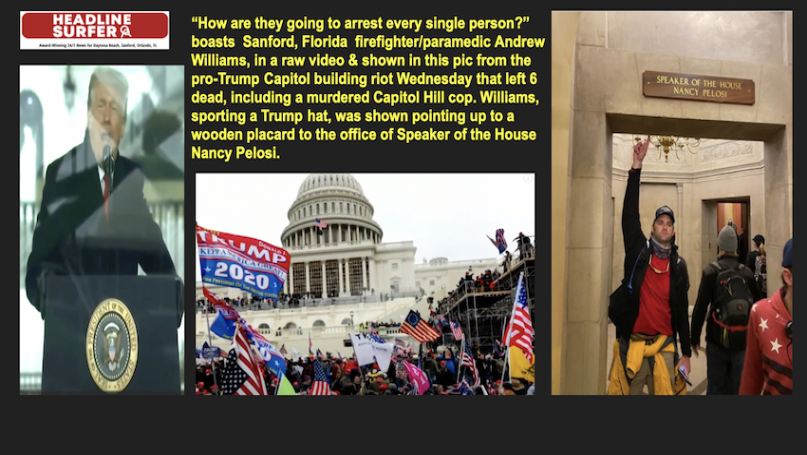 By HENRY FREDERICK / Headline Surfer
SANFORD, Fla. -- Sanford authorities signaled this afternoon they are close to criminal charges which could lead to termination of city firefighter Andrew Williams who was an active participant in the violent pro-Trump insurrection on the US Capitol that left six dead including a murdered cop.
Andrew Williams had been on paid administrative leave in the wake of Wednesday's violent raid on the Capitol building while both sessions of Congress were in the beginning stages of certifying the electoral college results for President-Elect Joe Biden and Vice-President-Elect Kamala Harris.
Williams took a video of himself in the Capitol building in the vicinity of Speaker of the House Nancy Pelosi's office wearing a Trump hat.
Williams was being paid his nearly $900 weekly salary until today when the administrative leave was chaged from with pay to without pay.
About The Byline Writer: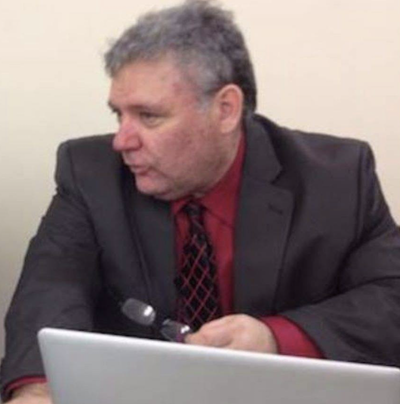 Henry Frederick is publisher of Headline Surfer, the award-winning 24/7 internet news outlet launched 12 years ago that serves greater Daytona Beach, Sanford & Orlando, Florida via
HeadlineSurfer.com
. Frederick has amassed more than a hundred journalism industry awards in print & online -- more than all other members of the working press combined in Central Florida since the mid-1990s. He earned his Master of Arts in New Media Journalism with academic honors from Full Sail University in 2019. Having witnessed the execution of serial killer Aileen Wuornos in Florida's death chamber and other high profile cases, Frederick has appeared on national crime documentary programs on Discovery ID and Reelz for his investigative reporting and cops & courts breaking news stories. 
Award-Winning Journalism of Henry Frederick
.  
COPYRIGHT NOTICE: All written and visual content contained in this story is the sole intellectual property of Headline Surfer LLC and may not be copied in whole or in part without advance written permission from the publisher of this Central Florida online news site.