Photod for Headline Surfer / Courtesy pics Volusia Branch Jail / Fla. Dept. of Corrections. Christopher Trull, 35 (shown at left), was arrested Thursday night in Nassau County on a warrant charging him with absconding from his post-prison probation nearly three years ago. He and his two brothers went on trial nearly a decade ago for the murders of two Maryland Spring Breakers, but ultimately, the oldest brother, Jonathan Trull (shown in the middle), 38, was convicted of murder, while Christopher Trull, and the youngest brother, Joshua Trull, 28, were found guilty of lesser included charges.

Story Posted: 2009-03-21 - 09:00:00
By HENRY FREDERICK / Headline Surfer
NEW SMYRNA BEACH, Fla. -- Christopher Trull the middle of the threeTrull brothers, who absconded from his probation nearly three years ago after a brief imprisonment for his role in the fatal attacks on a group of Spring Breakers here in New Smyrna Beach, was captured Thursday night in Nassau County after police there responded to a domestic violence call.
Trull, 35, was ordered held without bail Friday by Circuit Judge Hubert Grimes at his first appearance hearing. He was sentenced to five years and one month in prison for his conviction aggravated assault with a weapon, but actually served only six months because of gain time while awaiting trial on the original charge of murder and for good behavior. He was released from prison on Feb. 1, 2006, but absconded within months of his release.
A warrant was issued for Chris Trull'sa arrest Nov. 8 of that year. If convicted, Trull could be forced to serve the remainder of his original sentence plus several years more for absconding. Had he followed through with his post-prison probation, Trull would have won his freedom outright at the end of 2011.
Assistant State Attorney Noah McKinnon said late Friday night he was pleased to hear that Trull was picked up and now sitting in the Volusia Branch Jail, having always believed he was just as culpable as his older brother in the April 16, 1998, killings of two Maryland Spring Breakers and the near killing of a third at the Ocean Palms Beach Club.
"Christopher Trull is a natural born killer," McKinnon said, despite the fact the jury found him the least culpable of the three Oak Hill bothers. "I'm very pleased he's back in jail. The public is safer with him in custody."
Matthew Wichita, 21, and Kevans Hall II, 23, who died from multiple stab wounds while Seth Qubeck, 21, survived nearly two dozen stab wounds. The deadly attacks were in retaliation for an earlier fight baby brother Joshua Trull lost when he objected to a resort guest's comments about his baggy pants. Joshua Trull and another friend initially went there to retrieve a $15 ring from a 15-year-old Michigan girl they met the previous day on the beach.
Joshua Trull returned with his older brothers and four others, carrying knives, baseball bats and a cueball in a sock in what turned out to be a bloodbath under the cover of darkness near the resort's pool.
Jonathan Trull, the eldest brother and ringleader of the bunch, was sentenced to two consecutive life sentences, and Joshua Trull received 15 years but could be released after serving 10 years with gain time.
Christopher Trull actually got less time in prison and probation than some of the other co-defendants who cooperated with the prosecution.
All three originally wen on trial, charged with capital murder with the state seeking the death penalty. It was the lengthiest and most expensive trial in the history of Volusia County when it ended in March 2001, after nine weeks at a cost of $500,000. The results were far from what the prosecution expected, with Jonathan Trull escaping the death penalty in favor of two life sentences.
Even Jonathan Trull's attorney argued in his appeal that Christopher Trull was the true killer.
"Chris Trull killed these people of his own volition," attorney Gerard Keating insisted in his failed oral argument to the 5th District Court of Appeal. "Chris is the only one who did the stabbings -- there's no evidence of premeditation. Therefore, (Jonathan Trull) can't be convicted of murder. A willingness or eagerness to fight does not mean a willingness or eagerness to kill."
A trial witness said she overheard a conversation between Christopher Trull and a friend at a New Smyrna Beach restaurant the day after the killings, that he stabbed the victim in the face and throat.
''I stabbed the (expletive) in the face and felt it hit teeth and ripped it out and stabbed him in the throat,'' Calloway quoted Trull as saying, but her testimony was barred by the judge because the witness's credibility was called into question by the defense.
New Smyrna Police Detective Dan Kennedy, the lead investigator in the Trull case, said Friday that he believed based on the evidence, that Christopher Trull was just as much a culprit as his older brother, despite the jury verdicts.
"There's no doubt in my mind that he killed those boys," Kennedy said.
About The Byline Writer: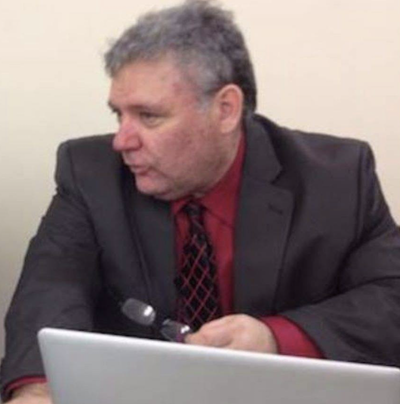 Henry Frederick is publisher of Headline Surfer, the award-winning 24/7 internet news outlet launched 12 years ago that serves greater Daytona Beach, Sanford & Orlando, Florida via
HeadlineSurfer.com
. Frederick has amassed more than a hundred journalism industry awards in print & online -- more than all other members of the working press combined in Central Florida since the mid-1990s. He earned his Master of Arts in New Media Journalism with academic honors from Full Sail University in 2019. Having witnessed the execution of serial killer Aileen Wuornos in Florida's death chamber and other high profile cases, Frederick has appeared on national crime documentary programs on Discovery ID and Reelz for his investigative reporting and cops & courts breaking news stories.
COPYRIGHT NOTICE: All written and visual content contained in this story is the sole intellectual property of Headline Surfer LLC and may not be copied in whole or in part without advance written permission from the publisher of this Central Florida online news site.