Headline Surfer video / Deltona, Florida resident Melody McSorley Johnson has endured the wrath of COVID-19 through emphasis on her faith, her family and feeling better. And it has worked in her favor.
By HENRY FREDERICK / Headline Surfer
DELTONA, Fla. -- Melody McSorley Johnson has never been afraid to take the proverbial road less traveled to achieve her goals and find contentment in whatever life gives as surely as it takes away.
Johnson, 52, slowly, but surely is winning her battle with the coronavirus though faith, family and fate itself.
Though she is one of the 13.1 million in the U.S. afflicted with COVID-19, she has avoided the ultimate grim statistic of this dreadful pandemic: Johnson is not among the 268,249 who have died as of midnight on Thanksgiving Eve.
Headline Surfer is shining the spotlight on Johnson, a married mother of three adopted siblings, and a former Volusia County School Board member, for its Thanksgiving Day cover story on her courage in battling this dreadful virus.
This pic from Melody McSorley Johnson's  Facebook page was added this afternoon to Headline Surfer story published earlier today. Johnson and her husband, Nathan Johnson, are joined at the table for the family's Thanksgiving meal by Nathan's mom, Evangeline R. Johnson, and two of their three children, Chase (left) and Nick.
First, she spent nearly three weeks in the hospital, but was able to endure without having to be hooked up to a ventilator. 
Since then, she has gained strength and is able to breath easier.
Johnson's senses of taste and smell have also returned.
"I am blessed through my faith in God and through the loving support of my family," Johnson told Headline Surfer.
Multimedia:
Watch the Multimedia video above on the enduring spirit and determination of Melody McSorley Johnson in battling COVID-19, how she caught the coronavirus, her 19 days in the hospital, and how her her husband, Nathan, and youngest child, Chase, 17, self-quarantined at home.
Both husband and son have since made a full recovery as their symptoms were not as bad as her's. And in the video, produced a week ago and uploaded to YouTube, you'll get the Johnsons' perspective on the Biden-Trump election and the COVID factor. 
Fast Facts:
• Melody Johnson was elected to the Volusia County School Board in 2014 to a four-year term, during which she rose to vice chair.
Two years before running for the elected office, she and her husband, Nathan, adopted three siblings and welcomed them into their new home in Deltona as a new family. 
• Johnson spent 19 days at Halifax-Deltona Hospital (Oct. 27 to Nov. 14). At one point, her oxygen level had dipped to a dangerously low 69 (normal is 94-100) and she came close to being put on a ventilator.
• In mid-October, Johnson flew to Ohio to visit relatives.
She faithfully wore her mask during the trip, but took it off at dinner and caught the coronavirus from an infected relative, who called her after she returned home three days later to inform her that she tested positive for COVID and spread it to other family members ass well. 
• Johnson unknowingly had passed the coronavirus on to her husband and youngest child at home. Several days later, all three were showing symptoms of COVID, though not nearly as severe as her.    
• Johnson, a physician assistant for Advanced Urgent Care in Port Orange hopes to return to work next month.
Previous-Related Coverage: Other prominent locals and COVID: 
BREAKING NEWS: Seminole County Sheriff's Office: Jail sergeant died this morning from complications of the coronavirus / Posted 11/21/2020 
BREAKING NEWS: Two employees & one inmate at Volusia County Branch Jail in Daytona test positive for coronavirus / Posted 06/24/2020 
Congressman Michael Waltz has tested positive for COVID-19 / Posted 11/07/2020
Orlando Mayor Buddy Dyer tweets he's been exposed to someone with COVID so he's self-quarantining at home / Posted 11/08/2020 - 17:14
Volusia County Manager George Recktenwald on passing of paramedic Gerald "Jerry" Jones due to COVID-19: 'This is a tragic and devastating loss for the county and the entire EMS team'  / Posted 09/21/2020
NASCAR driver Austin Dillon tests positive for COVID-19 / Posted 08/15/2020
Orlando Magic center Mo Bamba shut down for the rest of the season due to coronavirus / Posted 08/14/2020
James Harris aka Kamala The Ugandan Giant has died at age 70 from cardiac arrest caused by coronavirus / Posted 08/10/2020 
Orlando Magic clinch a playoff spot in the NBA Bubble / Posted 08/08/2020
Daytona Beach's Norma Bland, a community activist, has succumbed to the coronavirus at 71 / Posted 08/01/2020
Volusia County Sheriff Mike Chitwood tests positive for coronavirus / Posted 07/31/2020
Jimmie Johnson tests positive for COVID-19; ruled out for race Sunday at Indy / Posted 07/03/2020
BREAKING NEWS: Seminole County Tax Collector Joel Greenberg: 'I tested positive for COVID' / Posted 05/28/2020
Orlando Cops: Man under arrest on shoplifting charges at a 7-Eleven tried unsuccessfully to keep officers at bay after announcing he had the coronavirus and coughed & spit at them / Posted 04/23/2020
Daytona Beach Mayor Derrick Henry: 'I am deeply saddened by the passing of our first COVID-19 victim in Volusia County' / Posted 03/28/2020 
Roman Reigns skipping WrestleMania in Orlando due to concerns over coronavirus pandemic & his own 'immuno-compromised' health / Posted 03/27/2020
DEATHS BACK HOME HIT HOME: Coronavirus takes the lives of Deltona resident Webster Barnaby's 2 dearest friends in his native England within same week / 03/24/2020
Daytona Beach Mayor Derrick Henry's rallying cry with the death-stalking coronavirus pandemic worsening: 'It is time that we notice that coastal communities are being hit hardest' / Posted 03/20/2020
Volusia County officials: No plans to close daytona-area beaches amidst coronavirus pandemic, but emphasis on 'social distancing' / Posted: 03/15/2020
Daytona Beach finally revoking Bike Week event permits as of 9 am today in response to the coronavirus pandemic / Posted 03/14/2020
About The Byline Writer: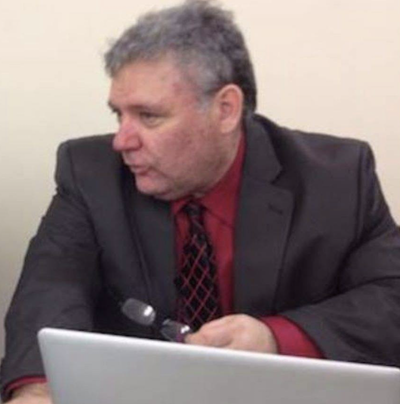 Henry Frederick is publisher of Headline Surfer, the award-winning 24/7 internet news outlet launched 12 years ago that serves greater Daytona Beach, Sanford & Orlando, Florida via
HeadlineSurfer.com
. Frederick has amassed more than a hundred journalism industry awards in print & online -- more than all other members of the working press combined in Central Florida since the mid-1990s. He earned his Master of Arts in New Media Journalism with academic honors from Full Sail University in 2019. Having witnessed the execution of serial killer Aileen Wuornos in Florida's death chamber and other high profile cases, Frederick has appeared on national crime documentary programs on Discovery ID and Reelz for his investigative reporting and cops & courts breaking news stories. 
Award-Winning Journalism of Henry Frederick
.  
COPYRIGHT NOTICE: All written and visual content contained in this story is the sole intellectual property of Headline Surfer LLC and may not be copied in whole or in part without advance written permission from the publisher of this Central Florida online news site.