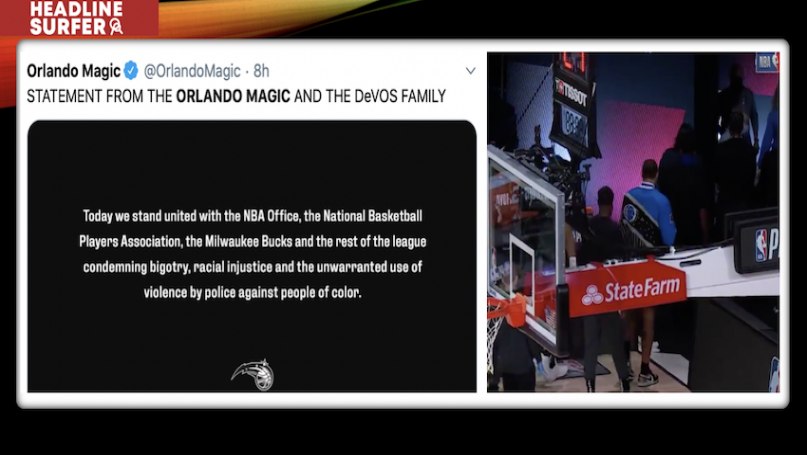 Headline Surfer photo illustration / Above: The Orlando Magic organization posted a tweet in support of the Milwaukeee Bucks after the No. 1 seeded team in the Eastern Conference playoffs refused to play the Orlando Magic Wednesday in The Bubble in response to the police-involved shooting of a Black man, Jacob Blake, in Wisconsin by cops. Top Right: Magic players leave the court after the Bucks refuse to take the court for game 5 of the best of seven series with Milwaukee holding a 3-1 series lead.
By HENRY FREDERICK / Headline Surfer 
LAKE BUENA VISTA, Fla. -- Game 5 of the first-round of NBA playoffs between the Orlando Magic and the Milwaukee Bucks was called off Wednesday when the Bucks players refused to leave the locker-room area in protest to the near-fatal shooting of a Black man, Jacob Blake, over the weekend, by a white cop in Kenosha, Wisc. 
The NBA post[pned a slate of playoff games Wednesday and today.
 The Orlando Magic and the DeVos family, who own the team, released a statement supporting the decision to postpone NBA games.
"Today we stand united with the NBA Office, the National Basketball Players Association, the Milwaukee Bucks and the rest of the league condemning bigotry, racial injustice and the unwarranted use of violence by police against people of color," the Magic statement read.
Magic players said they wished they had received a head's up from the Bucks, but nonetheless were in support of the stance taken.
"We weren't given advanced notice about the decision, but we are happy to stand in solidarity with Milwaukee, Jacob and the entire NBA community," Magic guard Michael Carter-Williams said in a statement released by the Magic, adding, "Change is coming,"
About The Byline Writer: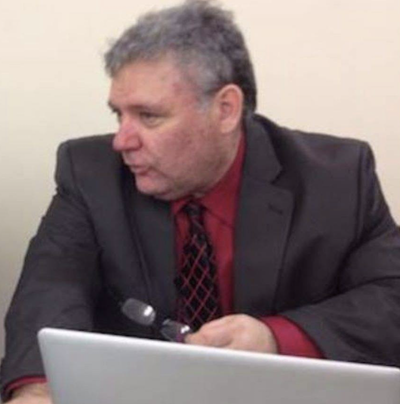 Henry Frederick is publisher of Headline Surfer, the award-winning 24/7 internet news outlet launched 12 years ago that serves greater Daytona Beach, Sanford & Orlando, Florida via
HeadlineSurfer.com
. Frederick has amassed more than a hundred journalism industry awards in print & online -- more than all other members of the working press combined in Central Florida since the mid-1990s. He earned his Master of Arts in New Media Journalism with academic honors from Full Sail University in 2019. Having witnessed the execution of serial killer Aileen Wuornos in Florida's death chamber and other high profile cases, Frederick has appeared on national crime documentary programs on Discovery ID and Reelz for his investigative reporting and cops & courts breaking news stories.
COPYRIGHT NOTICE: All written and visual content contained in this story is the sole intellectual property of Headline Surfer LLC and may not be copied in whole or in part without advance written permission from the publisher of this Central Florida online news site.