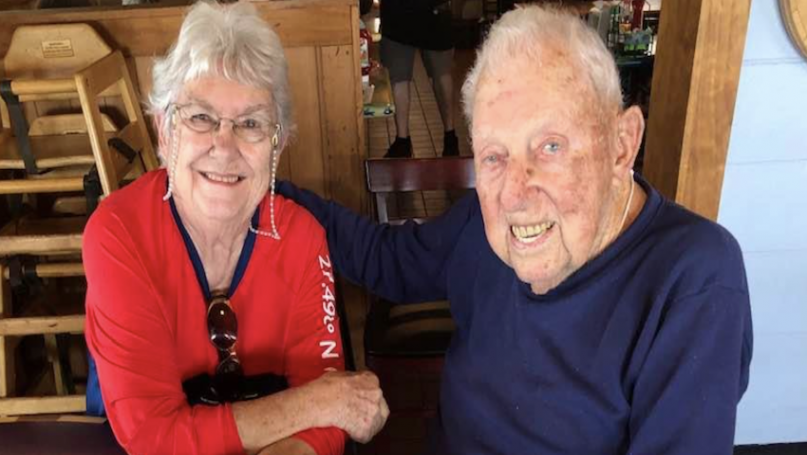 Linda Hyatt, Oak Hill's longtime vice mayor and city commissioner, is shown with her husband of 49 years, James Morgan Hyatt, also known as 'Whistle,' who died on Saturday, Nov. 20, 2020, at the age of 95.
By HENRY FREDERICK / Headline Surfer
OAK HILL, Fla. -- There will be no memorial service at this time for James Morgan Hyatt, who passed away four days ago, because of concerns over the possible spread of the deadly coronavirus, his widow said. 
"No flowers, no food, no memorial service until after Covid when we will have a celebration of Life at a local restaurant per his request," Oak Hill City Commissioner Linda Hyatt told Headline Surfer.
Instead of flowers or food, Hyatt is asking Whistle's mourners to donate to the Second Harvest Food Bank or Halifax Urban Ministries in his name.
Instead of flowers or food, Linda Hyatt is asking Whistle's mourners to donate to the Second Harvest Food Bank or Halifax Urban Ministries in his name. He is shown here two years ago posing as a balloon turkey for Thanksgiving. With his passing four days ago, this Thanksgiving on Thursday will be Hyatt's first alone without her husband of 49 years.
More than 200 friends of the Hyatts have offered sympathies on Linda Hyatt's Facebook page since her initial post Saturday morning stating: "Heaven gained another angel this morning when Whistle passed away. Just too many friends to call and text but FB tells it all."
Messages of sorrow and offers of prayer have come from colleagues in elected office and friends alike.
"Prayers of strength and peace to you," Erika Benfield, former DeBary councilwoman, wrote. "You are so strong, Linda."
Former Volusia County Councilwoman Pat Northey of Deltona, wrote: "I am so very sorry, Linda."
Volusia County Councilwoman Billie Egger Wheeler, said, "Oh Linda, prayers and love being sent to you."
A similar comment was made by County Councilwoman Deb Denys: "Oh Linda. I am so sorry for your loss of your husband."
Fellow Oak Hill Commissioner Kathy Bittle said she was sorry to hear of James Hyatts passing, adding. "We are praying for you. If you need anything, let us know. We love you."
Besides politicians, countless friends near and far wrote to Hyatt as well.
Oak Hill resident Lyn Seaward wrote: "You know and you know the 24/7 number to call."
Orlando resident Suzanne Davis recalled good times with Hyatt and her husband: "Whistle was so pleasant to be with."
So where did the nickname Whistle come from? Hyatt explained: He lived in Pine Castle and rode a motorcycle so it became Pine Castle, then Pine Whistle and the name stuck."
Whistle was born in Pine Castle, Florida. He first was a supervisor building roads, and later worked in boat manufacturing for Scat Craft boats. Still later, he operated his own business---Beeline Storage.
Whistle passed away at ALF, an assisted living facility, where he had been cared for since August. He will be cremated.
Fast Facts:
Linda Hyatt's tenure as an elected leader on the Oak City Commission: 2008-2012, 2014-2018, and 2018-present. She is up for re-election in two years. In addition to her elected post as city commissioner, Hyatt has also previously served as vice mayor and is expected to be the vice mayor again in the new year.
Previous Related Coverage: 
MILESTONE: Oak Hill Commissioner Linda Hyatt must go on without her beloved 'Whistle' who died today at age 95
About The Byline Writer: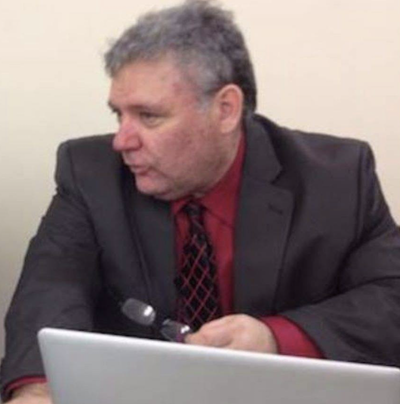 Henry Frederick is publisher of Headline Surfer, the award-winning 24/7 internet news outlet launched 12 years ago that serves greater Daytona Beach, Sanford & Orlando, Florida via
HeadlineSurfer.com
. Frederick has amassed more than a hundred journalism industry awards in print & online -- more than all other members of the working press combined in Central Florida since the mid-1990s. He earned his Master of Arts in New Media Journalism with academic honors from Full Sail University in 2019. Having witnessed the execution of serial killer Aileen Wuornos in Florida's death chamber and other high profile cases, Frederick has appeared on national crime documentary programs on Discovery ID and Reelz for his investigative reporting and cops & courts breaking news stories. 
Award-Winning Journalism of Henry Frederick
.  
COPYRIGHT NOTICE: All written and visual content contained in this story is the sole intellectual property of Headline Surfer LLC and may not be copied in whole or in part without advance written permission from the publisher of this Central Florida online news site.