Headline Surfer photo illustration / Christoher Abad, 26, had to be physically taken to the ground and handcuffed in what started as a simple theft at 7-Eleven in the 900 block of South Orange Blossom Trail after deliberately coughing and spitting at responding Orlando cops after warning them he had the coronavirus.
By HENRY FREDERICK / Headline Surfer
ORLANDO, Fla. -- In what can only be described as a cowardly act, Orlando cops responding to a theft at a 7-Eleven had to deal with a less-than-cordial 26-year-old Orlando man attempting to take arrest him announced he had coronavirus and then overtly coughed and spit on him as they took him to the ground and cuffed him.
Christopher Abad had taken beer, soft drinks and snacks from the 7-Eleven in the 900 block of South Orange Blossom Trail Monday night without paying, according to the arrest report.
The Orlando man also threatened to shoot a store employee who confronted him about attempting to leave the premises without first paying for the items, the arrest affidavit stated.
Abad, an obese man, cursed out the cops who responded to the 9-1-1 call from the store, stating in part, "I hope you (expletive) die," and, "Yeah I got corona virus you (expletives)."Then, according to the report, coughed on one of the arresting officers tried to kick him as he was being handcuffed. Once the cop was able to pin Abad on the ground and turn him over, the combative man spit on him and subsequently tried to spit at several other officers at the scene, but missed, according to the report.
Abad was taken into custody and jailed on charges of theft, assault, battery on a law enforcement officer and assault on a law enforcement officer.
He has been held since the arrest at the Orange County Jail on $3,600 bond.
About The Byline Writer: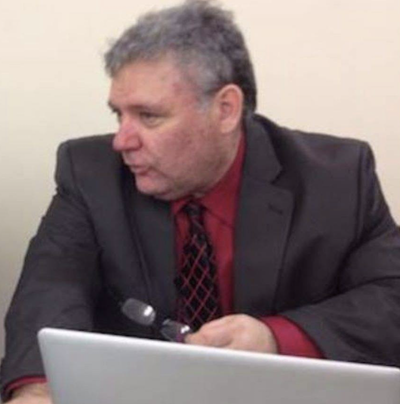 Henry Frederick is publisher of Headline Surfer, the award-winning 24/7 internet news outlet launched 12 years ago that serves greater Daytona Beach, Sanford & Orlando, Florida via
HeadlineSurfer.com
. Frederick has amassed more than a hundred journalism industry awards in print & online -- more than all other members of the working press combined in Central Florida since the mid-1990s. He earned his Master of Arts in New Media Journalism with academic honors from Full Sail University in 2019. Having witnessed the execution of serial killer Aileen Wuornos in Florida's death chamber and other high profile cases, Frederick has appeared on national crime documentary programs on Discovery ID and Reelz for his investigative reporting and cops & courts breaking news stories. 
Award-Winning Journalism of Henry Frederick
.  
COPYRIGHT NOTICE: All written and visual content contained in this story is the sole intellectual property of Headline Surfer LLC and may not be copied in whole or in part without advance written permission from the publisher of this Central Florida online news site.