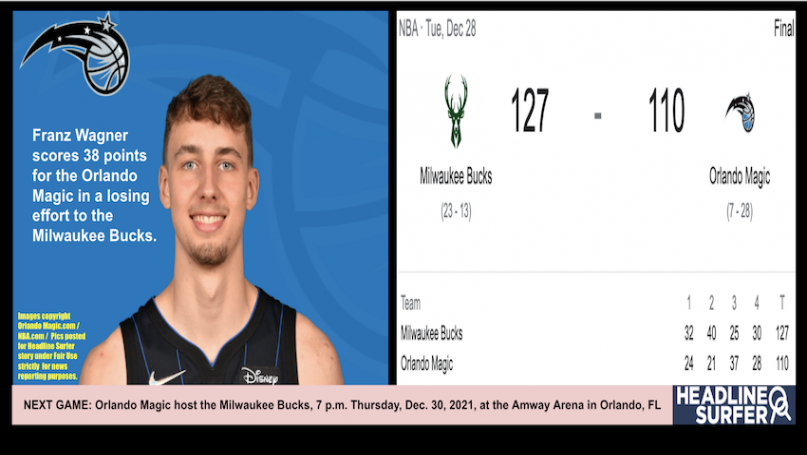 By SERA KING / Headline Surfer
ORLANDO, Fla. -- The Orlando Magic lost at home Tuesday to the Milwaukee Bucks, 127-110, despite a team-high 38 points from forward Franz Wagner.
Wendell Carter Jr. pulled down 10 rebounds and Robin Lopez dished out 4 assists.
But the defending NBA champs, who saw their 29-point bulge early in the third quarter, were just too strong late in the fourth quarter to put away the Magic behind the scoring firepower of Giannis Antetokounmpo who had 28 points, Khris Middleton with 21 points, and Jrue Holiday chipping in 18 points to go along with 10 assists.
The Orlando Magic fall to 7-28 on the season while the Bucks improve to 23-13.
The 20-year-old Wagner was stoic in defeat: "Trying to get to the rim. Trying to figure out what they were doing on ball screens. They were kind of doubling, not doubling. I hadn't seen that before. So, I made sure I made the right reads there. It always helps when you hit a couple threes early on. A couple things open up. But I think I did a good job of not forcing it."
The 6-foot-10 forward added: In a couple other games, where three, four plays in a row I think I have to make the homerun play myself instead of just making the easy play. I think I did a better job of that today."
COVID-19:
Four Orlando Magic players were not available for the team in its 127-110 loss Tuesday at home to the Milwaukee Bucks due to the NBA's health and safety protocols: Chuma Okeke,  Terrence Ross, Mo Bamba, and Mychal Mulder.
Injuries:
Not available due to injury were Cole Anthony (right ankle injury maintenance), Michael Carter-Williams (left ankle), Markelle Fultz (left knee), 
Jonathan Isaac
 (left knee), E'Twaun Moore (left knee sprain), and Jalen Suggs (fractured right thumb).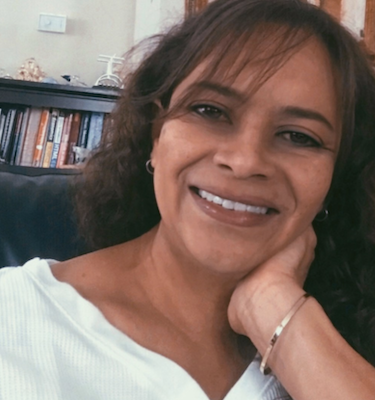 About the Byline Writer: Sera King is associate publisher of Headline Surfer, the award-winning 24/7 internet news outlet in Lake Mary, FL serving greater Orlando, Sanford, and Daytona Beach via HeadlineSurfer.com since 2008. She's also a byline writer (business, community & sports features), a videographer, and a cartoonist for the media outlet. King received her bachelor's degree in Business Administration from the Metro Orlando Campus of Ana G. Mendez University in 2008. Headline Surfer is published by Henry Frederick, Central Florida's award-winning journalist.