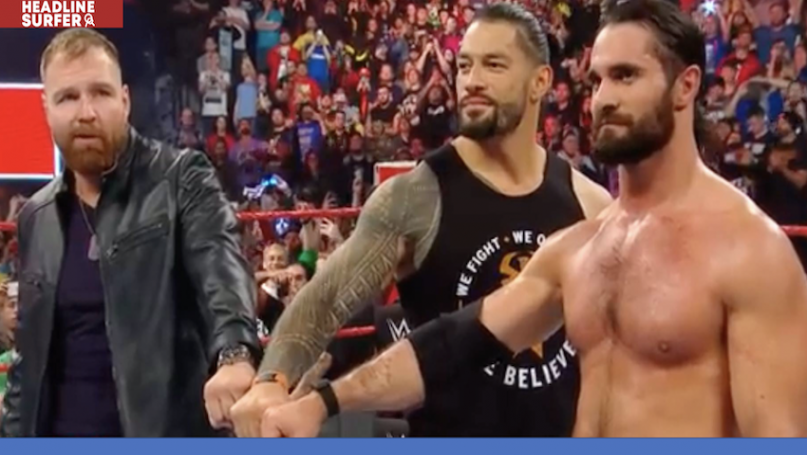 Headline Surfer photo / Shown Above: Dean Ambrose (now Jon Moxley in AEW), Roman Reigns and Seth Rollins of the former WWE stable, the Shield are going strong these days as individual competitors in the squared-circle.
By HENRY FREDERICK / Headline Surfer
ORLANDO, Fla. -- Roman Reigns returned from his COVID-19 hiatus to put a hurtin' on "The Fiend" Bray Wyatt and Braun Strowman following their championship match won by Wyatt at SummerSlam on Sunday at the Amway Center. 
Reigns, for his impressive dominating destruction inside the WWE Thunderdome and now apparently a heel, has debuted at No. 1 on the weekly Wrestling ReWind Top 10.
And joining Reigns in the Top 3 are his former Shield partners Seth Rollins and Jon Moxley (who was Dean Ambrose with the stable), who are ranked seconds and third, respectively.
Here is the Wrestling ReWind Top 10
1. Roman Reigns, WWE;
2. "The Monday Night Messiah" Seth Rollins - WWE;
3. Jon Moxley, AEW world champion;
4. Drew McIntyre, WWE champion;
5. Randy Orton, WWE;
6. "The Fiend" Bray Wyatt - WWE Universal champion;
7. Braun Strowman, WWE; 
8. Brodie Lee - AEW;
9. Keith Lee, WWE;
10. Eddie Edwards, Impact Wrestling champion;
Honorable Mentions:
Matt Riddle, WWE;
King Corbin, WWE,
Sheamus, WWE.
Two milestones from SummerSlam: Asuka Raw champ for 2nd time; Renee Young's final appearance with WWE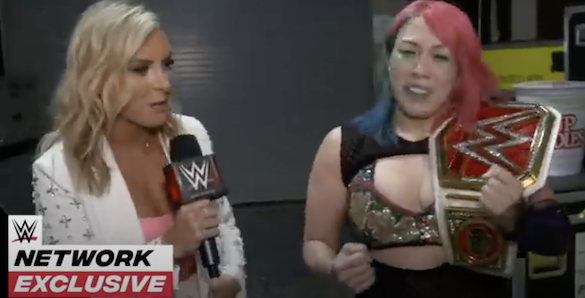 WWE courtesy pic for Headline Surfer via screenshot from SummerSlam / Renee Young gets reaction from an ecstatic Asuka on her big championship win over Sasha Banks at SummerSlam to reclaim the Raw Women's championship belt.
SummerSlam had two milestones so to speak: The first was that it marked the final appearance on WWE programming for Renee Young, the longtime ringside host, analyst and interviewer and wife of Jon Moxley, formerly Dean Ambrose with the WWE before he moved on to AEW. Whether she follows him to the upstart All Elite Wrestling remains to be seen.
The second milestone is Asuka's defeat of Sasha Banks for the Raw Women's championship belt, especially after the "Empress of Tomorrow" battled Bayley for the Smackdown Women's championship earlier on the same night in a losing effort.
Who can forget the way Asuka lost the belt last month to Banks when she ran from the ring and was counted out in coming to the aid of her friend, Kari Sane who was attacked backstage by Bayley.
But apparently, the WWE wasn't ready to make Asuka both belts as was teased leading up to SummerSlam.
After all, the precedent was set with Becky Lynch becoming "Two Belts" Becky with her historic win at Wrestlemania last year in a triple-threat match against then-Raw champion Rhonda Rousey and then-Smackdown women's champion Charlotte Flair in the marquee match.
Earlier this year, Lynch, who was down to the Raw title after losing the Smackdown belt to Flair, relinquished the belt to Asuka after announcing she was pregnant. Clearly, with "The Man" on maternity leave, Asuka is head-and-shoulders above the other women in the WWE as well as the other wrestling promotions such as AEW and Impact Wrestling.
And what better choice of interviewers to speak with Asuka on camera than Renee Young? Clearly two of the most prominent stars of the WWE - Asuka in the squared circle and Young outside of it in her original role of on-camera interview.
And speaking of pregnancy, Renee Young has saids she was leaving the WWE in hopes of having a baby with Moxley, the AEW world heavyweight champion. Whether Young ends up on WWE before year's end when her contract with WWE ends remains to be seen.
Wrestling ReWind Top 10 Women Wrestlers:
1.  Asuka, WWE Raw women's champion;
2. Bayley, WWE Smackdown women's champion;
3.  IO Shirai, WWE NXT women's champion;
4. Shayna Baszler, WWE;
5. Sasha Banks, WWE;
6. Mandy Rose, WWE;
7. Hikaru Shida, AEW women's champion;
8. Alexa Bliss, WWE;
9. Deonna Purrazzo, Impact Wrestling women's champion;
10. Nia Jax, WWE.
About The Byline Writer: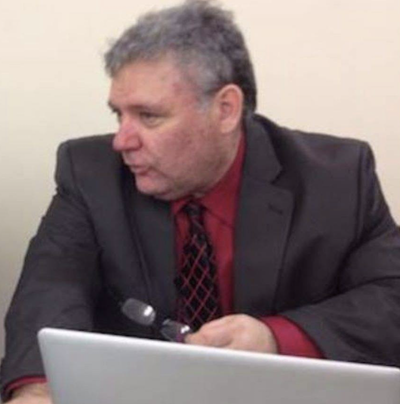 Henry Frederick is publisher of Headline Surfer, the award-winning 24/7 internet news outlet launched 12 years ago that serves greater Daytona Beach, Sanford & Orlando, Florida via
HeadlineSurfer.com
. Frederick has amassed more than a hundred journalism industry awards in print & online -- more than all other members of the working press combined in Central Florida since the mid-1990s. He earned his Master of Arts in New Media Journalism with academic honors from Full Sail University in 2019. Having witnessed the execution of serial killer Aileen Wuornos in Florida's death chamber and other high profile cases, Frederick has appeared on national crime documentary programs on Discovery ID and Reelz for his investigative reporting and cops & courts breaking news stories.
COPYRIGHT NOTICE: All written and visual content contained in this story is the sole intellectual property of Headline Surfer LLC and may not be copied in whole or in part without advance written permission from the publisher of this Central Florida online news site.