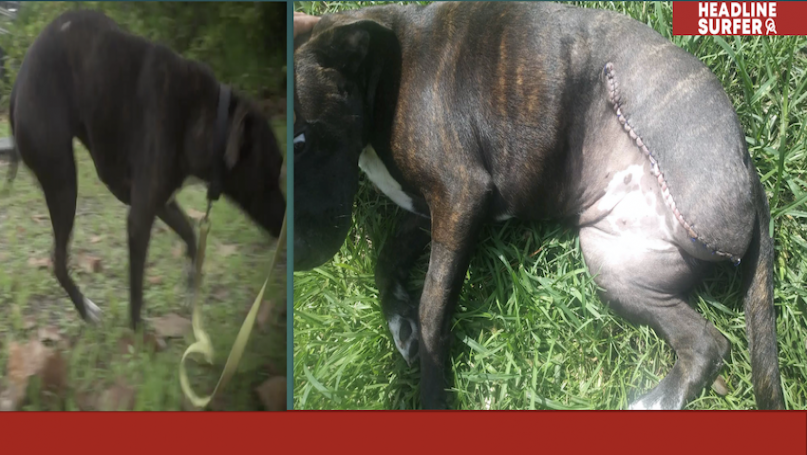 By HENRY FREDERICK
DSYTONA BEACH, Fla. -- This sweet doggie from DeLand lost a shattered hind leg and regained her life.
For that, Suzy Anna, a loveable, spirited three-legged Labrador mix, has two guardian angels to thank – a local animal lover with a heart of gold and Volusia County Animal Services, which performed Suzy's life-saving amputation free of charge.
It was the evening of Aug. 12 when Suzy Anna's DeLand family found their 44-pound pooch underneath their car, unwilling to come out for her nightly feeding.
The next day, when they got a look at Suzy Anna in the daylight, the family discovered the problem – a severely injured hind leg.
Although no one knows for sure, the assumption is that Suzy Anna had been hit by a car.
That's when Good Samaritan Charlotte Walling entered the picture.
Walling, a fixture at Animal Services who frequently brings them animals in need of care, had helped Suzy Anna's family before. Not sure what to do or how to pay for it, the family once again asked Walling for help. And she knew just who to call – Animal Services.
Walling brought the dog to a local vet first for x-rays and then took Suzy Anna and the scans to Animal Services.
"The x-rays confirmed the worst – a totally severed left rear leg bone," Voliusia County spokesman Gary Davidson told Headline Surfer. "A surgical repair would have been hugely expensive and iffy at best. Officials at Animal Services concluded that amputation would be the best course of action. And as it turned out, it gave Suzy Anna a new lease on life." 
The surgery was outside of the customary services rendered at the county's animal clinic. In fact, it was performed outside of their normal business hours.
"They just wanted to give Suzy Anna her old life back," Davidson explained. "Understanding the family's financial situation, Animal Services decided to do the surgery for free."
Last week, a month after the 90-minute surgery and with the dog fully recovered, the owners were reunited with their beloved family pet.
Suzy Anna had been recuperating with Walling since the surgery. But last week, it was time for Suzy's family to take her home. The emotional reunion and hand-off took place at Animal Services' headquarters in Daytona Beach, where there were hugs and slobbery wet kisses from Suzy Anna for all. Suzy was playful as ever, not skipping a beat despite the loss of a limb.
"She's a happy dog again," said Michelle Barrera, who came with her mother to pick up Suzy Anna. "She's not hurting anymore."
Watching Suzy Anna return to her family was equally emotional – and rewarding – for the staff at Animal Services.
"It's a great feeling," said Laura Stiwinter, the clinic supervisor at Volusia County Animal Services. "It's great to have them all go back to where they need to be. A dog needs to be in its home. That's where they belong. So we do everything we can at Volusia County to make sure that all the animals get back to their homes."
Volusia County's staff veterinarian, Dr. Joni Goldstein, said she was only too happy to volunteer her time to help Suzy Anna recover.
"It just makes me very proud to work for an organization that gives us the opportunity to help an animal in need like this," said Dr. Goldstein. "It was a lot of people with a lot of big hearts coming together for a dog that's really deserving."
Virtually everyone involved in the saga of Suzy Anna says Walling is the true hero of the story. But she shrugged off any credit, simply saying that she was happy for Suzy Anna, happy for her family and incredibly grateful that Animal Services was there to help.
"If it wasn't for you all, she'd be in doggie heaven right now," Walling said emphatically.
"It takes everybody involved. That's why she's still here."
About The Byline Writer: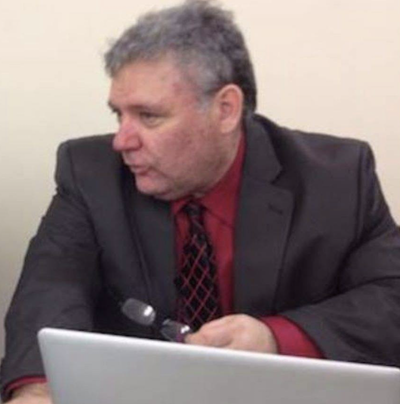 Henry Frederick is publisher of Headline Surfer, the award-winning 24/7 internet news outlet launched 12 years ago that serves greater Daytona Beach, Sanford & Orlando, Florida via
HeadlineSurfer.com
. Frederick has amassed more than a hundred journalism industry awards in print & online -- more than all other members of the working press combined in Central Florida since the mid-1990s. He earned his Master of Arts in New Media Journalism with academic honors from Full Sail University in 2019. Having witnessed the execution of serial killer Aileen Wuornos in Florida's death chamber and other high profile cases, Frederick has appeared on national crime documentary programs on Discovery ID and Reelz for his investigative reporting and cops & courts breaking news stories.
COPYRIGHT NOTICE: All written and visual content contained in this story is the sole intellectual property of Headline Surfer LLC and may not be copied in whole or in part without advance written permission from the publisher of this Central Florida online news site. 
Jones, who was 51-years-old, worked for EVC ambulance and then its successor, Volusia County Emergency Medical Services for 21-plus years, dating back to May 1999.