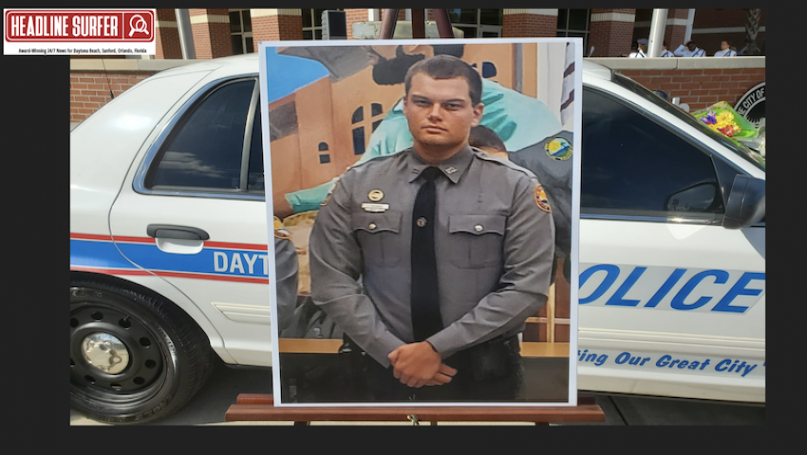 Photo for Headline Surfer / A large image of the late Jason Raynor, 26, and his cop car are on display in front of the Daytona Beach Police Department  along with other items for public viewing over the next few days while a viewing on Sunday and funeral service on Monday are private. 
By HENRY FREDERICK / Headline Surfer
DAYTONA BEACH, Fla. -- Final viewing Sunday and funeral service, Monday, will both be in private (public and the press excluded) as family members, cops and certain politicians pay final respects to Officer Jason Raynor, who died Tuesday, 55 days after he was shot in the face by a gunman  while on patrol.
DAYTONA BEACH, Fla. -- Final viewing and funeral services, are planned for Sunday and Monday, respectively, in private (excluding public and the press) where final respects will be paid to Officer Jason Raynor.
Raynor, 26, died Tuesday at Halifax Health Medical Center, 55 days after he was shot in the head in the parking lot of an apartment building at 133 Kingston Ave by a lone gunman during a physical altercation on June 23.  
Since Raynor's passing, Othal Wallace, 29, the alleged gunman, has been charged with first-degree murder and could face the death penalty, if convicted at trial. He was previously charged with attempted murder.
The following was released by the Daytona Beach Police Department in consultation with Officer Raynor's family:
• These events are not open to media or the public, according to written directives from the Daytona Beach Police Department in consultation with the family.
• Current and previous law enforcement officers and their significant others are welcome to attend as are any civilian personnel who work or have worked in law enforcement and their significant others.
• Anyone from the public who would like to pay their respects to Officer Raynor can visit and leave items anytime at the memorial that's located outside the front lobby of Daytona Beach BPD headquarters (129 Valor Boulevard). The memorial will be left in place until after the funeral.
• Private viewing is sceduled for 2 to 5 p.m. Sunday at the News-Journal Center, 221 North Beach St. Officer Raynor's body will lay in repose during the viewing. The casket will remain closed during the viewing. Items which have already been donated to the Raynor family will be on display for those attending the viewing.
• A private funeral service is planned for 11 a.m. Monday, at the Ocean Center, 101 North Atlantic Ave. The service is expected to last around an hour and will feature various outdoor elements.
Those include a flyover, the playing of "Taps," a 21-gun salute and a flag display from the Daytona Beach Fire Department. Among those speaking during the service will be Daytona Beach Police Chief BPD Chief Jakari Young and one of Officer Raynor's family members. Various dignitaries are expected in attendance, including elected officials. Officer Raynor's remains will be cremated following the service.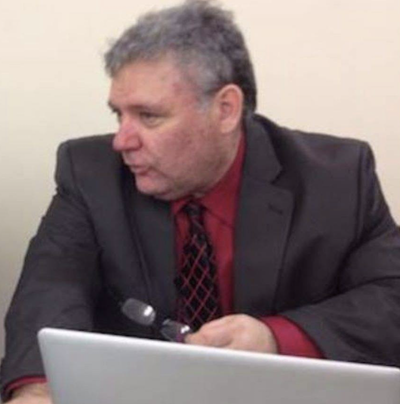 About the Byline Writer:
Henry Frederick is a member of the working press and publisher of Headline Surfer, the award-winning 24/7 internet news outlet launched back in 2008 serves greater Daytona Beach, Sanford & Orlando, Florida via HeadlineSurfer.com. Frederick has amassed more than a hundred journalism industry awards in print & online -- more than all other members of the working press combined in Central Florida since the mid-1990s. He earned his Master of Arts in New Media Journalism with academic honors from Full Sail University in 2019. He was a metro breaking news reporter covering cops & courts for the Daytona Beach News-Journal for nearly a decade and before that the same type of beat for The Journal-News/Gannett Suburban Newspapers in Rockland/ Westchester counties in New York dating back to 1989. Having witnessed the execution of serial killer Aileen Wuornos in Florida's death chamber and other high profile cases, Frederick has appeared on national crime documentary programs on Discovery ID and Reelz for his investigative reports on high-profile crimes. 
• Award-Winning Journalism: Florida Press Club recognizes Headline Surfer for nine stories in 2020 statewide competition. • Award-Winning Journalism of Henry Frederick.
COPYRIGHT NOTICE: All written and visual content contained in this story is the sole intellectual property of Headline Surfer LLC and may not be copied in whole or in part without advance written permission from the publisher of this Central Florida online news site.