Headline Surfer photo / David Lee Davis, a substitute teacher, political blogger, and failed 2016 candidate for Volusia County Supervisor of Elections, shown from his first appearance, was sentenced today to 12 years in prison for sexual battery on a 15-year-old boy who testified against him at trial.
Posted: 2020-01-17 - 16:45:40
By HENRY FREDERICK / Headline Surfer
DAYTONA BEACH, Fla. -- Add child sex batterer to the roles played for real in the life of one David Lee Davis a veritable jack of all trades -- one-time Daytona cop in his late teens, twice-failed candidate for elected office, political consultant/blogger, and substitute teacher -- who often used his local church ties to give the public appearance of piety and kindness - playing that role right up to the moment a judge handed down a 12-year prison sentence.
Then he whimpered as his fingerprints were taken and he was escorted out a side door for transport back to jail where he had been for 465 days leading up to this fateful day of truth and the beginning of punishment: Twelve years of incarceration should he live that long, considering her's 64 years old, obese and has heart issues.
Davis, who cried like a baby as Circuit Judge Matt Foxman handed down the sentence, for this wolf in sheep's clothing, now a designated a sexual predator for sexual battery on a teenager he had met at a middle school where he was substitute teaching.
 The dozen years was slightly more than twice the recommended state guideline sentence of 5 1/3 years in prison, but it was no where near the maximum 30 years behind bars the prosecution asked for.
The judge also declared Davis a sexual predator.
Davis received credit for 465 days time-served in the Volusia County Branch Jail while he awaited trial.
Before the judge handed down his sentence, Davis read a nearly 20-minute-long statement in which he proclaimed innocence, called for lie-detector tests and said he had always worked to help people, particularly young persons.
Davis said his failing was in not breaking the teen's confidence by telling his grandmother about his problems.
"On the outside are smiles but on the inside a seriously troubled young man fighting the demons of adolescence without the benefit of close peers or a male family member," Davis said of the boy he denied ravaging sexually, performing a sex act on him by holding him down on a couch with all of his 250 pounds on top of the skinny kid. 
Davis said he had spent a lifetime working to help people and had had contact with thousands of young people without any other allegations of improprieties.
"Why (the teen) created this story about me is known only to him and God just as the truth is known only to (the teen) and myself and God," Davis said.
Assistant State Attorney Ashley Terwilleger countered Davis was the scariest type of predator because parents and grandparents entrusted their children to him.
"I think the egregious and aggravating circumstances in this particular case are the way the defendant met the victim," Terwilleger said. "He originally meets him while he is in a position of trust as a substitute teacher. "
Davis performed oral sex on the then 15-year-old boy in 2018 after the teen rode his bicycle to Davis' apartment in Port Orange. Davis had met the teen in a culinary arts class three years earlier while Davis was working as a substitute teacher.
A jury in November deliberated 41 minutes before finding Davis guilty of sexual battery on a person 12 or older but younger than 18, a first-degree felony.
The judge, before imposing sentence, added that people try to label others as either good or bad.
"The reality is, and this court is a testament on a day-to-day basis, is that very decent qualities and very dark qualities often reside in the same human being," Judge Foxman said.
Davis' arrest was a shocking fall for a man who twice for political office. Davis wrote a political blog, which he relied on in his role as a  self-proclaimed political consultant who ran for Volusia elections supervisor in 2016 and lost in the primary, finishing fourth among five candidates. Davis ran for congressional seats in 1982 and in 1990 but was unsuccessful each time.
Davis also previously worked as a Daytona Beach police officer. He said he joined the force when he was 19, but barely worked there a year. 
Prior to Headline Surfer writing a story about Davis, the only complaint lodged against him was that he told students the cafeteria food was horrible, that they needed to be in school for an extra hour and they only deserved three weeks of summer vacation instead of two months because they were brats who didn't listen.
After that, Davis was no longer allowed to substitute at Silver Sands Middle but was allowed to work elsewhere in the district.
In 2016, the district received a second complaint about Davis, this time from Headline Surfer, about alleged sexual misconduct back in Ohio, and excessive social media usage while he was working as a substitute, running as a candidate for Volusia County Supervisor of Elections in the 2016 elections, and in yet another role as a political blogger posting disappearing comments against incumbent Supervisor of Elections Lisa Lewis on school time, promoting or bashing of candidates in other races as well.
Headline Surfer screenshots / Top: The Volusia County Branch Jail mugshot of David Lee Davis. Bottom: A portion of the Volusia County Sheriff's Office arrest affidavit on Davis. Warning: Some of the language is graphic and may not be suitable for all age groups.
The following hyperlinks are Headline Surfer stories written about David Lee Davis and his alleged connection to pedophelia well before his arrest and posted while he was still substitute teaching: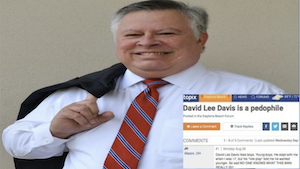 Failed political candidate & substitute teacher David Lee Davis accused of being a pedophile on Topix forum site
Topix online post alleging failed political candidate & substitute teacher 'David Lee Davis is a pedophile' removed, but still shows up in google search
Neither Kelly nor other senior district officials mentioned the complaint during the trial alleging past pedophelia concerns against Davis that was filed by this member  of the working press and that two stories on the allegations had been published in successive days on Headline Surfer.
A district review "failed to produce sufficient evidence to support the allegation" a district spokeswoman said, despite numerous Headline Surfer emails to the contrary showing almost-daily social media posts by Davis and other materials, adding the review was closed as "unsubstantiated."
The arrest report affidavit on Davis was quite telling as well in terms of any prior information linking Davis to allegations of pedophelia.
The 15-year-old victim was asked by a sheriff's detective if he was aware of any other child sexual assault victims, to which the teen advised that after he was assaulted he had "read an article  written by Henry Frederick about a Topix forum. The article advised that David Davis that David Davis had sex with a 17-year-old boy," according to the arrest affidavit.
The actual alleged sex act is very graphic and thus Headline Surfer has posted a portion of the arrest affidavit in an infographic here to summarize it.
Sheriff Mike Chitwood was grilled by several Orlando TV news camera crews on the victim's reference to the Headline Surfer coverage. Chitwood said he would check into it, but has not reached out to Headline Surfer.
An email from Headline Surfer in response to the TV news inquiries that the online news outlet offered to meet with the sheriff or his investigators on the Davis situation, drew no response from Chitwood.
Sheriff's detectives said Davis had been working as a substitute at five high schools — Spruce Creek, New Smyrna Beach, Atlantic, Seabreeze and University — and at five middle schools — Creekside, Silver Sands, Ormond Beach, Hinson and New Smyrna Beach.
"I've got a funny feeling there are other students who may have been victimized," Chitwood said at a press conference after Davis' arrest. He did not elaborate and no additional cases have been connected to Davis up to his sentencing today.
About The Byline Writer: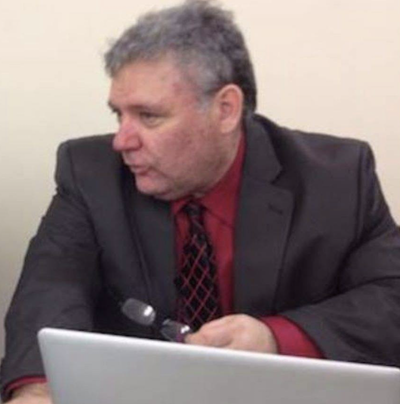 Henry Frederick is publisher of Headline Surfer, the award-winning 24/7 internet news outlet launched 12 years ago that serves greater Daytona Beach, Sanford & Orlando, Florida via
HeadlineSurfer.com
. Frederick has amassed more than a hundred journalism industry awards in print & online -- more than all other members of the working press combined in Central Florida since the mid-1990s. He earned his Master of Arts in New Media Journalism with academic honors from Full Sail University in 2019. Having witnessed the execution of serial killer Aileen Wuornos in Florida's death chamber and other high profile cases, Frederick has appeared on national crime documentary programs on Discovery ID and Reelz for his investigative reporting and cops & courts breaking news stories.
COPYRIGHT NOTICE: All written and visual content contained in this story is the sole intellectual property of Headline Surfer LLC and may not be copied in whole or in part without advance written permission from the publisher of this Central Florida online news site.