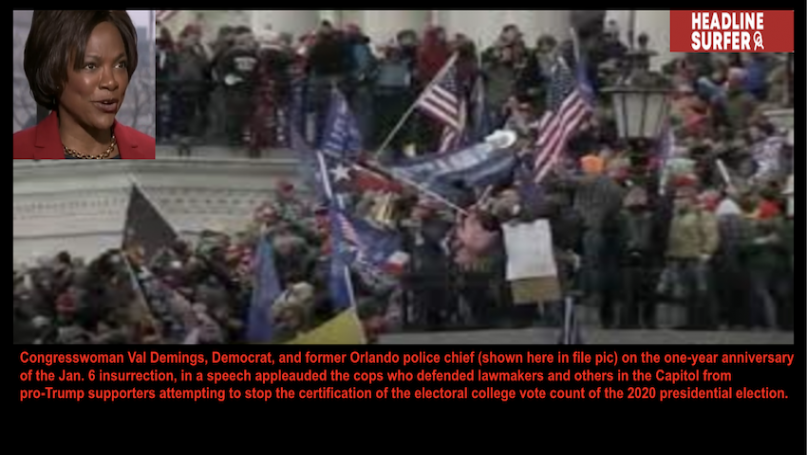 By HENRY FREDERICK / Headline Surfer
ORLANDO, Fla. -- Democratic Rep. Val Demings, a former Orlando police chief, police chief, honored officers who defended the US Capitol on Jan. 6, 2021, in her remarks from Capitol Hill on the one-year anniversary:
"As a former police chief, I shall never forget what I witnessed one year ago today," Demings said. "And America should never forget either. I know the Capitol police officers and others took their oath seriously because I saw them fighting with every ounce of strength, courage, commitment, and energy that they could muster up."
Demings also spoke of the difference between the bravery of the cops under siege and the behavior of some Republican member sof Congress loyal to Donald Trump and his Big Lie:
"As members of Congress, both in the upper chamber and the lower chamber, we have taken an oath, too. But some have forgotten that oath. Some, the oath is overshadowed by their quest for power and their pathetic fear of election officials counting every vote." Demings said. "I want to thank the police officers for defending and protecting us that day, but they did so much more. They also protected our democracy. Many people call themselves patriots, but true patriots don't lie. They don't steal. They don't cheat. They aren't cowards. They don't push lies for political or financial gain. But out of the ashes, good things can rise."
Demings added, "The bright spots one year ago today, the police officers who defended us and the certification of the electoral ballots. Our democracy stood, and the enemies of our democracy lost. I will support, protect, and defend because America is worth it."
Related Coverage:
Jan. 6 anniversary: President Joe Biden: Trump 'created and spread a web of lies'
Vice President Kamala Harris: Jan. 6 reflects 'the fragility of democracy'
Previous-Related Central Florida Coverage: 
BREAKING NEWS: Sanford firefighter Andrew Williams, who was among pro-Trump rioters in siege of the Capitol, arrested today by the FBI; released on bond by fed judge in Orlando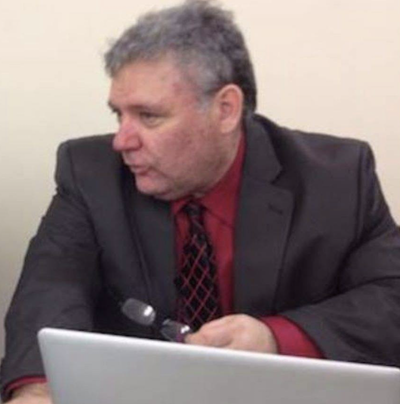 About the Byline Writer: Henry Frederick is a member of the working press and publisher of Headline Surfer, the award-winning 24/7 internet news outlet launched in 2008, that serves greater Daytona Beach, Sanford & Orlando from Lake Mary, Florida via HeadlineSurfer.com. Frederick has amassed close to 150 award-winning bylines in print & online. He earned his Master of Arts in New Media Journalism from Full Sail University in 2019. He was a breaking news reporter (metro cops & courts beat) for the Daytona Beach News-Journal for nearly a decade. And Before that worked the same beat for The Journal-News/Gannett Suburban Newspapers in Rockland/Westchester counties, NY, dating back to 1989. Having witnessed the execution of serial killer Aileen Wuornos in Florida's death chamber and covering other high profile cases, Frederick has appeared on national crime documentary shows on Discovery ID, Reelz, and the Oxygen Network series "Snapped" for his analysis. • Award-Winning Journalism: Florida Press Club recognizes Headline Surfer for nine stories in 2020 statewide competition. • Award-Winning Journalism of Henry Frederick.