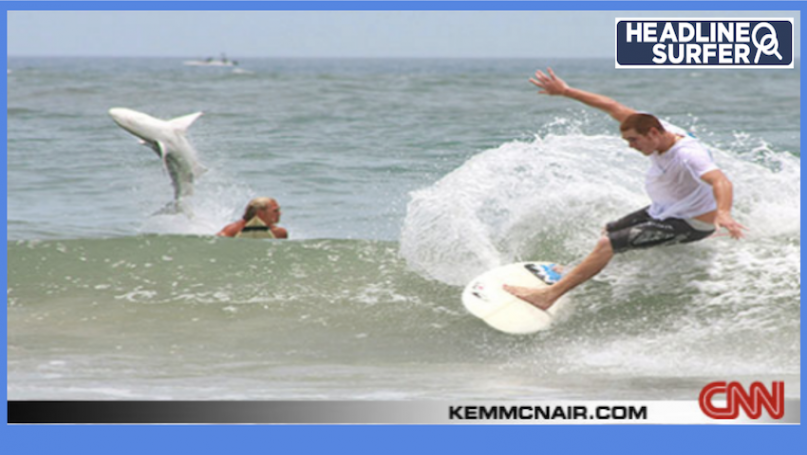 Counting 'em Down: For better or for worse, this is the Headline Surfer countdown of 2021's Top 100 biggest news stories of Central Florida along the tourism-driven stretch of Interstate 4 (Orlando Attractions and east to I-95 & the World's Most Famous Beach in Daytona). Each recap segment is posted with its own headline, culminating with the unveiling of No. 1. Each segment includes a 2022 update.
Photos for Headline Surfer / ABOVE: Blacktips and spinners are what most people encounter when fishing, swimming, or surfing near the New Smyrna Beach Inlet Jetty where the curling waves draw these sharks who mistake a human foot, knees, hand, etc for baitfish, according to preeminent NSB surfer Kem McNair, who shot this pic that went viral back in 2009. LEFT: Kem McNair, 69 is shown in 2021 surfing the rolling waves in New Smyrna Beach near the south jetty where sharks -- mostly 3-5-foot-long blacktips and spinners feast on baitfish. BELOW: Capt. Tammy Malphurs with Beach Safety/Ocean Rescue comments on shark bite incidents.
By HENRY FREDERICK / Headline Surfer 
NEW SMYRNA BEACH, Fla. -- Volusia County had 16 shark bite incidents in 2021, the second-highest in the past 20 years, with all but a few of them in New Smyrna Beach- just south of the Ponce Inlet Jetty.
It is there where sharks and surfers are most likely to have a personal encounter.
Volusia's 16 shark bites last year represent 15% of the global total. The county topped Australia, which had12 bites, as well as Brazil, New Zealand, and South Africa which each had three bites. 
Gavin Naylor of the International Shark Attack File at the University of Florida says most of the bites occurred south of Ponce Inlet in New Smyrna Beach where the surf is good, the water murky, and the baitfish plentiful. 
"Occasionally the sharks will see the sole of somebody's foot or the palm of a hand, as they paddle out on their board, and it will look in an instant, a split second, very similar to baitfish," Naylor said.
McNair, a longtime New Smyrna Beach surfer, photographer, and artist, said he's never been bitten - or even nipped by a shark, but others who have told him it's like a badge of honor.
Florida for decades has topped the global charts in shark bites. The state had 28 bites in 2020. The U.S. as a whole had had 47 shark bite incidents. 
The sharks are typically 3 to 5 feet, and more often than not, they are blacktip sharks. Or occasionally they are spinner sharks. Either way, they are not lethal. "It's a mistaken identity," explained Capt. Tammy Malphurs with Beach Safety/Ocean Rescue, in an email to Headline Surfer.
"People are in the water. Sharks are feeding on the baitfish and surfers just happen to get in the way."
The sharks are typically 3 to 5 feet, and more often than not, they are blacktip sharks. Or occasionally they are spinner sharks. Either way, they are not lethal. "It's a mistaken identity," explained Capt. Tammy Malphurs with Beach Safety/Ocean Rescue, in an email to Headline Surfer.

"People are in the water. Sharks are feeding on the baitfish and surfers just happen to get in the way."
The majority of shark bites occur on either side of Ponce Inlet where there is a large concentration of baitfish.
The inlet also happens to be one of the best surf spots in the southeast so the sharks, surfers, and swimmers there occasionally tangle up.
The most shark bites in the area ever recorded was back in 2001 when 22 people were bitten. Sixteen bites this year are tied for the second-highest because Volusia County also had 16 shark bites in 2008.
"We don't think this is anything out of the ordinary," Naylor, a shark researcher and program director at the University of Florida, said.
Naylor says shark numbers are actually declining on our coast due to overfishing, so this year's near-record shark bite numbers are not a matter of more sharks, but rather more people, particularly as COVID-19 lockdowns lifted.
"It's not about the sharks. It's more about there are a lot more people that are letting their hair down and been bottled up inside and going out swimming and surfing," Malphurs said. "The region is really buzzing with people."
There's no doubt a shark bite will kill the buzz, but surfers, who suffer the most bites, always say it will only temporarily keep them out of the water.
Even though the U.S. led the world in 2021 shark attacks, it only recorded one death, which took place in late December off Morro Bay, Calif. A man was surfing when he was attacked by what appeared to be a great white shark. The man died at the scene.
U.S. attacks in 2021 amounted to nearly double that of the next country listed, Australia, partially because of its enormous shoreline and its high turnout of beachgoers. Florida makes up nearly 60 percent of all attacks in the country. Hawaii is the second on the list, but the Sunshine State holds a whopping total of 896 attacks since 1837 compared to Hawaii's 182.
While the Sunshine State is the biggest among state shark bites, Volusia County continues to hold the crown of the Shark Bite Capital of the World, accounting for 63 percent of all Florida attacks, the ISAF said. Just last year, Florida reported 28 attacks, 17 of which took place in Volusia. 
There are larger sharks farther off the coast, including great whites.
However, experts say they typically don't come in close enough to shore to be a significant threat.
73: Unprovoked shark bites worldwide
47: Unprovoked shark bites in U.S. waters (ranked 1st)
28: Unprovoked shark bites in Florida (ranked 1st)
17: Unprovoked shark bites in Volusia County (ranked 1st)
51%: Surfing, activity when bit by a shark (ranked 1st)
11: Fatalities worldwide, 9 unprovoked.
"No great whites at the inlet, but have heard from expert fishermen that there are Great whites offshore," McNair told Headline Surfer.
"Years ago, a 15-foot hammerhead swam right between me and my friend, but we saw him coming from 50 feet away," McNair recalled. "His dorsal fin was 18 to 20" tall, out of the water. That was a really big fish. his body was way bigger than a 55-gallon drum. but he had no interest in us luckily."
McNair, 69, added, I don't know of any time that a bite wasn't mistaken identity or someone got in the way of a feeding frenzy. We have noticed a large increase in the number of sharks. They are jumping a lot back in Turnbull Bay, which is a few miles from the ocean. Never seen them back here. We have seen some big Bull sharks in the surf a couple of times. those guys demand respect and almost everyone leaves the water pretty quick."
2022 shark bite incidents: Two so far
A 20-year-old Altamonte Springs man surfing in 7 feet of water was bitten on the foot by a shark over the weekend near the New Smyrna Beach Jetty, a Beach Safety spokeswoman said.
Here is a synopsis of what occurred as described in an email media alert to Headline Surfer by Tammy Marris, deputy chief of Volusia County Beach Safety Ocean Rescue: 
A little after 3 pm Saturday, a 20-year-old surfer from AltamonteSprings was bit on his right foot while surfing in about 7 feet of water. Marris said. His injury was non-life threatening and ambulance transport was not needed.
This was the second shark nite incident of 2022 in Volusia County.
About the Byline Writer: Henry Frederick is a member of the working press and publisher of Headline Surfer, the award-winning 24/7 internet news outlet launched in 2008, that serves greater Daytona Beach, Sanford & Orlando from Lake Mary, Florida via HeadlineSurfer.com. Frederick has amassed close to 150 award-winning bylines in print & online. He earned his Master of Arts in New Media Journalism from Full Sail University in 2019. He was a breaking news reporter (metro cops & courts beat) for the Daytona Beach News-Journal for nearly a decade. And Before that worked the same beat for The Journal-News/Gannett Suburban Newspapers in Rockland/Westchester counties, NY, dating back to 1989. Having witnessed the execution of serial killer Aileen Wuornos in Florida's death chamber and covering other high profile cases, Frederick has appeared on national crime documentary shows on Discovery ID, Reelz, and the Oxygen Network series "Snapped" for his analysis. • Award-Winning Journalism: Florida Press Club recognizes Headline Surfer for nine stories in 2020 statewide competition. • Award-Winning Journalism of Henry Frederick.