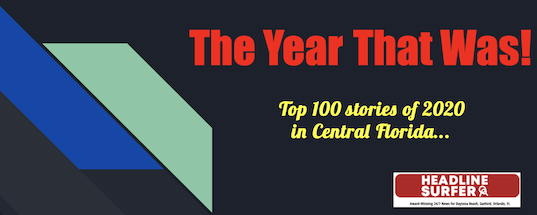 Headline Surfer photo illustration / Shown at right: Volusia County Council's Heather Post was a divisive politician pointing fingers everywhere but at herself in 2020, proving to be a continuing divisive and polarizing figure throughout the past four years since she was first elected after blatantly lying to the voters about use of illicit drugs in her maiden campaign for office. Headline Surfer found the smoking gun in her personnel file last spring, a document that proved Post was untruthful and remains so to this day. Shown top left: The 2nd biggest story of 2020 was that of David Lee Davis, a political consultant, blogger  twice failed candidate for public office, and a substitute teacher, who was sentenced in January 2020 to 12 years in prison for orally raping a 15-year-old boy he befriended at school. Bottom Left: The third biggest story of 2020 was the arrest of Joel Greenberg and the unsealing of a federal indictment in court in late June, accusing the-then Seminole County tax collector of  campaign-related stalking and identity theft. Greenberg resigned the next day. A slew of new felony counts have been added since then against him.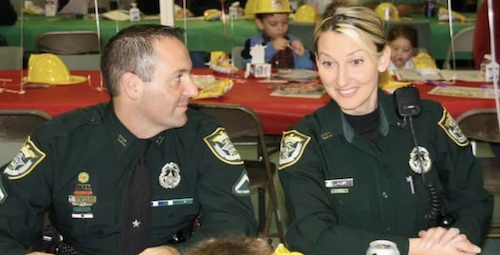 EDITOR'S NOTE: Click each numbered hyperlinked headline below for full story details... 
By HENRY FREDERICK / Headline Surfer
Preamble: These are the Top 100 stories of 2020, dominated by news of the COVID-19 Pandemic, but also by corrupt politicians at all levels of government who will say or do just about anything to get elected, stay in office and build their bases.
The era of misinformation and disinformation is not limited to Wahington - it's here in Central Florida as shown with elected politiocians like Volusia County Councilwoman Heather Post amd Sheriff Mike Chitwood. There are Headline Surfer's 100 ranked story recaps of the year that was:  
1. Investigative Reporting project puts ex-deputy turned politician Heather Post in The Sunshine: She blatantly lied to voters about past illegal narcotics use to win 2016 election
DAYTONA BEACH, Fla. -- While the COVID-19 pandemic dominated the headlines in 2020, the year that was, the uncovering of the big lie by Volusia County Counvilwoman Heather Post in denying past illicit drug use was the biggest story of the year.
Especially since she will continue for two more years on the dais of the Frank J. Bruno County Council chambers starting Jan. 6, when she begins her new term in office.
Post, a high school dropout who left behind her mediocre career in law enforcement for her new one asa politician, lied through her teeth to get where she is. In the closing weeks of the 2016 campaign she looked right into the TV cameras at a press conference in Daytona and vehemently denied using illicit drugs in her past in applying for jobs in law enforcement. 
Post had a much easier time this time around, easily defeating her challenger who never raised the issue of Post's veracity during the election.
Once she got on the county dais in 2017, she proved to be argumentative, self-centered and a constant thorn in the side of County Chair Ed Kelley and remained so for the next four years. She teamed up with Sheriff Mike Chitwood, also elected as sheriff in 2016, and the two of them created havoc and chaos throughout the past four years, with pwrsional attacks against the chair and others on the dais, leading to the forced resignation of Jim Dinneen as county manager in June 2018. 
In the waning weeks of the 2016 campaign, Post at a press conference with the Orlando TV cameras in front of her denied using drugs despite documentation in her county personnel file from her abyssmal career in law enforcenmment - including her brief stint as a deputy with the Volusia County Sheriff's office that said otherwise.
"I can tell you unequivocally [sic] I am not a crack head!" Post said emphatically. 
Post turned the drug allegations around challenging her then-campaign opponent, Al Smith, an on-air morning personality on WNDB AM Radio, to take a drug test.
And following the press conference, Post emailed a press release insisting a polygraph test summary in her personnel file with the VCSO that had her acknowledging cocaine use was an "obvious forgery" because certain dates didn't add up.
But there's no ambiguity or wiggle room for Post in the 2020 Elections with a document from her voluminous personnel file uncovered by Headline Surfer and reported on in a story on April 29, 2020,
The documentation, a one-age affidavit in which Post acknowledged past illicit drug use, which was signed and dated by her and notarized, proves Post flat out lied to win election.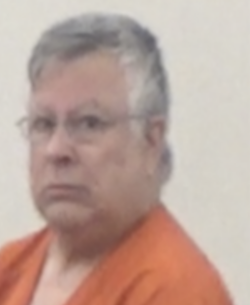 2. BREAKING NEWS: Political blogger & substitute teacher David Lee Davis sentenced in Daytona Beach courtroom to 12 years in state prison for sexual battery of boy, 15
DAYTONA BEACH, Fla. -- Add child sex batterer to the roles played for real in the life of one David Lee Davis a veritable jack of all trades -- one-time Daytona cop in his late teens, twice-failed candidate for elected office, political consultant/blogger, and substitute teacher -- who often used his local church ties to give the public appearance of piety and kindness - playing that role right up to the moment a judge handed down a 12-year prison sentence.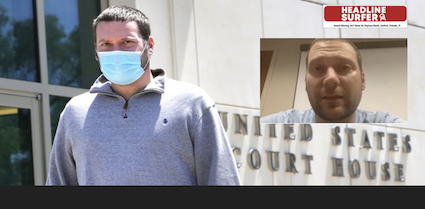 3. INDICTED: Seminole County Tax Collector Joel Greenberg accused of stalking political opponent
ORLANDO, Fla. -- Seminole County Tax Collector Joel Greenberg is accused of stalking one of his political opponents, according to a federal indictment unsealed Tuesday that led to his arrest and presentment in US District Court.
Just past the midway point of his fourth year in the public office, Greenberg, stands accused in the indictment of creating fake social media accounts that falsely suggested a political opponent favored white supremacy and that this same opponent had engaged in sexual misconduct with a student at a school where he teaches, federal prosecutors said Tuesday.
UPDATE since this initial story: Greenberg, 35, and married with two children, resigned from his elected the day after he was indicted, and since then, additional felony counts have been added by the feds, including allegations of child sex trafficking and using his job to get information related to alleged "sugar daddy" relationships, that could land him in prison for upwards of 30 years, if convicted. Greenberg's not scheduled to go to trial until June.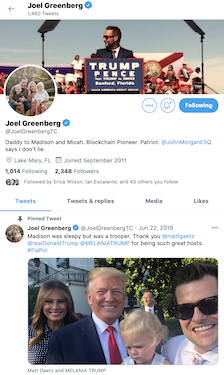 4. ANALYSIS: Could a Trump pardon be in the works for indicted ex-Central Florida tax collector Joel Greenberg via pals Roger Stone & Matt Gaetz? 
ORLANDO, Fla. -- It pays to know people in high places - and in this case - even low places - if you are former Seminole County Tax Collector Joel Greenberg, who stands accused of a slew of creepy and disgusting moral's crimes that could put him behind bars for upwards of 30 years in federal prison.
Well, this is where Congressman Matt Gaetz and Roger Stone, come in, whose relationships with Donald Trump are well chronicled. 
5. OUR ENDORSEMENT: Joe Biden for President, mask and all
6. Trump to NASCAR fans: No matter who wins the Daytona 500, 'what matters most is God, family and country'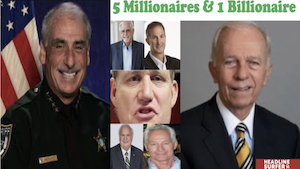 7. 2020 Elections: Mike Chitwood gets 2nd term as sheriff with no opponent as qualifying ends, thanks to rich influential insiders
DAYTONA BEACH, Fla. -- When Mike Chitwood tookj to the podium in the Frank T. Bruno Jr. County Council chambers 9n June 19, 2018, he called then-County Manager Jim Dinneen corrupt and said he and the elected leaders on the dais were part of the cycle of pay-to-play politics.
Dinneen resigned later that day amid political turmoil and Chitwood continued his attacks on other county leaders while picking up where he left off in 2016 by amassing large amounts of political contributions from wealthy influential insiders. 
As such Chitwood has been elected to a second-four term in office as Volusia County sheriff without a single vote being cast because he had no oppoent when qualifying ended at 5 p.m. today, thanks to a mountain of campaign contributions from six rich influential insiders who provided a whopping $52,300. These six business insiders accounted for 78 percent of Chitwood's overall campaign warchest.
8. Denny Hamlin wins 3rd Daytona 500; Ryan Newman survives horrific last-lap crash. 
9. Daytona Beach's Norma Bland, a community activist, has succumbed to the coronavirus at 71
10. Volusia School Board's Ruben Colon posts coronavirus meme on Facebook denigrating women then deletes it when confronted
11. Seminole County Sheriff's Office: Jail sergeant died from complications of the coronavirus
12.  Former School Superintendent Tom Russell succumbs to coronavirus during hospitalization
13. Ed Kelley retires from chairmanship of Volusia County at year's end; Jeffrey Brower his successor with win in 2020 elections
14. Volusia County Manager George Recktenwald on passing of paramedic Gerald "Jerry" Jones due to COVID-19: 'This is a tragic and devastating loss for the county and the entire EMS team'
15. BREAKING NEWS: Daytona Beach Police: Knife-wielding man shot in the neck by cops (warning: graphic video)
16. BREAKING NEWS: New Smyrna Beach cop wounded in shooting; gunman killed in return fire by the officer and a deputy
17. 2020 Elections: Anita Burnette defeats Ida Wright for seat on school board; incumbent gets job with district soon after 
18. 2020 Elections: Stacy Cantu knocks off entrenched incumbent Rob Gilliland for seat on Daytona Beach City Commission
19. Jeff Bracy, Oak Hill's bumping belly bully, withdraws from his bid for re-election to city commission
20.  Daytona Beach Mayor Derrick Henry's rallying cry with the death-stalking coronavirus pandemic worsening: 'It is time that we notice that coastal communities are being hit hardest'
21. Beach Safety: Dozen rescues on Friday the 13th with 'large Spring Break crowds' in Daytona
22. Swimming' no longer listed by Beach Safety as an exercise after a body was spotted face down in the surf at Volusia County's 'closed beaches' that are really open for exercise only
23. Daytona Beach pulls permits from sidewalk vendors on final day of Bike Week as COVID-19 pandemic worsens
24. Jakari Young is Daytona Beach PD's new top cop
25. PANDEMIC PALS: Daytona's top cop & the Speedway's track boss helped load 400 cars with 32,000 pounds of food
26. Thanksgiving Weekend Tragedy: Ocala boy, 7, drowns in surf north of Ormond Beach where lifeguards were not stationed despite large holiday weekend crowds
27. BREAKING NEWS: Worker, 21, conducting daily safety check may have been halfway up the 250-foot Starflyer swing ride attraction in Orlando when he fell to his death
28.  ISC and NASCAR merge with the latter now the sole entity moving forward in Daytona
29. NASCAR great Jimmy Johnson moving over to IndyCar Racing in 2021
30. NASCAR suspends driver Kyle Larson indefinitely for using N-word during a virtual race
31. NASCAR's lone Black Driver in the top tier of its racing circuit won't return to Richard Petty Motorsports next season
32. Daytona Beach Mayor Derrick Henry ecstatic: NASCAR announces ban on Confederate flags at its racetracks
33. Orlando Cops: Man under arrest on shoplifting charges at a 7-Eleven tried unsuccessfully to keep officers at bay after announcing he had the coronavirus and coughed & spit at them
34. New Smyrna Beach's Raheem Mostert goes 80 yards for TD in 1st play from scrimmage for San Francisco 49ers before sitting out 2nd half with knee injury in win over NY Jets, 31-13
35. Orlando Magic clinch a playoff spot in the NBA Bubble
36. Orlando Magic's Jonathan Issacs lone player at NBA Bubble not to kneel or wear a Black Lives Matter T-shirt during National Anthem, but later explained he supports the movement
37. The DeVos family - owners of the Orlando Magic - contributing $50,000 to Second Harvest Food Bank of Central Florida
38. Embry-Riddle Aeronautical University President P. Barry Butler condemns 'pointless police killing' of George Floyd
39. Daytona Mayor Derrick Henry in aftermath of George Floyd's murder by 4 rogue Minneapolis cops since fired: 'My heart is shattered'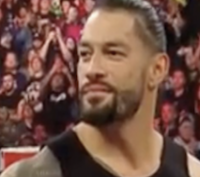 40.  Roman Reigns skips WrestleMania in Orlando due to concerns over coronavirus pandemic & own 'immuno-compromised' health
41. Congressman Michael Waltz tests positive for COVID-19
42. Congressman Michael Waltz: China's communist government no friend of the U.S. in this global pandemic
43. Orlando man charged with 1st-degree murder for allegedly gunning down Burger King employee over drive-thru order delay
44. Daytona Beach Mayor Derrick Henry among leaders near & far paying homage to Congressman John Lewis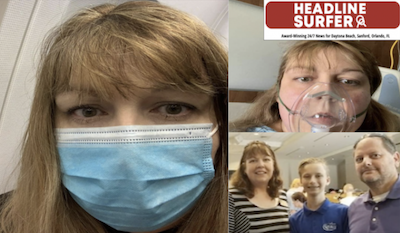 45. MULTIMEDIA THANKSGIVING STORY: Deltona's Melody McSorley Johnson winning battle with COVID through faith, family & fate
46. Sanford cops: 17-year-old car burglary suspect shot in the back & killed by homeowner inside fenced-in yard; no charges filed
47. Daytona Beach Cops: 13-year old boy speeding on stolen motorcycle killed in collision with motorist
48. Ben Kennedy, son of Daytona-based NASCAR principal Lesa France Kennedy, among four promoted to VP posts
49. Jimmie Johnson tests positive for COVID-19; ruled out for race at Indy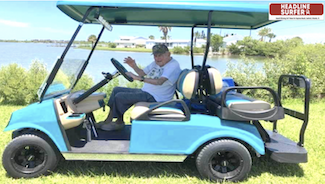 50. MILESTONE: Oak Hill Commissioner Linda Hyatt must go on without her beloved 'Whistle' who died today at age 95
51. Daytona Beach Cops: Motorist shot in the head and killed; crashes car into Campbell Middle School
52. BREAKING NEWS: Two employees & one inmate at Volusia County Branch Jail in Daytona test positive for coronavirus
53. Seminole County Commissioner Amy Lockhart: 'Wearing a mask is my way of putting others before myself'
54. FDLE: An OCSO deputy & ex-VCSO deputy charged with a misdemeanor, alleging they lied about disposal of guns, one of which was stolen 
55. Gov. DeSantis tabs a Daytona Beach appeals judge to serve on state's highest court
56. Daytona Beach Mayor Derrick Henry in letter to voters: Humbled in being given opportunity to continue public service leadership
57. Recount confirms Derrick Henry outright winner in 2020 primary for third four-year term as Daytona Beach mayor
58. Sheriff Mike Chitwood tests positive for coronavirus
59.  Florida Supreme Court hands down disciplinary action against 26 attorneys from greater Orlando & elsewhere in the Sunshine State

60.  NASCAR driver Austin Dillon tests positive for COVID-19
61. Veteran top cop Jessica Paugh the new school of emergency services director at Daytona State College
62. Post-Thanksgiving meal greeting from Daytona Beach Mayor Derrick Henry
63. 19th anniversary of 9/11: Don Burnette remembers that 'awful day' more than a decade before he was first elected mayor of Port Orange
64. 'Blueprint' Matt Morgan has nothing but praise for the Undertaker's announced retirement at Survivor Series in Orlando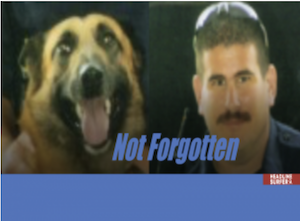 65. EXCLUSIVE REPORTING: New Smyrna Beach Cops: Remembering Roy Nelson Jr. & k-9 Caesar 15 years after fatal crash took them away
66. Juneteenth: Celebrating 19 Central Florida role models led by Daytona Beach Mayor Derrick Henry
67. Daytona Beach caregiver sentenced to life for killing disabled man to cash in on insurance
68. Pandemic World: NASCAR announces final installment of the 2020 racing schedule, including playoff dates & locations
69. Orlando Magic open up 2020-2021regular season at home against the Miami Heat
70. Orange City cop found dead in Daytona Beach surf - Sgt. Kelly Jo Brubaker victim of apparent suicide
71. Sanford Cops: 16-year-old charged with murder in shooting death of older teen
72. Daytona Mayor Derrick Henry liked the Michael Jordan documentary, 'The Last Dance,' but not  criticisms of Lebron James
73. Former Port Orange resident & Olympic Swimmer Ryan Lochte in new documentary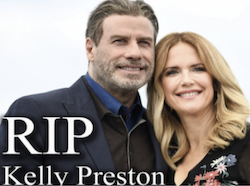 74. Kelly Preston, actor & wife of John Travolta, died Sunday of breast cancer at 57; the Hollywood stars were married in Daytona Beach
 DAYTONA BEACH, Fla. -- There is a Daytona Beach connection to actress Kelly Preson, who died of breast cancer in mid-July: She and husband John Travolta were legally married in Daytona Beach.
Volusia County Councilwoman Billie Egger Wheeler posted a TV news report comment on Preston's death on her Facebook  without commenting herself on the actresses' passing. 
75. Orlando Magic center Mo Bamba shut down for the rest of the season due to coronavirus
76. Daytona Beach City Manager planning to retire before summer 2021
77. Man pleads no contest to running over & killing dog near New Smyrna Beach
78. Beach Patrol: Two teen boys first victims of shark bites in New Smyrna Beach surf this year
79. Sanford cop relieved of duty after New Year's DUI arrest in Lake Mary
80. NASCAR Chairman & CEO Jim France pays homage to Maurice Petty, brother of Richard Petty and race car engine builder, dead at 81
81. Deltona man arrested on 2nd-degree murder charge in fatal stabbing in van traveling on I-4 
82. Daytona's Shirley Dacenzo reflects on the passing of Olivia de Havilland, last of the movie stars of Hollywood's Golden Age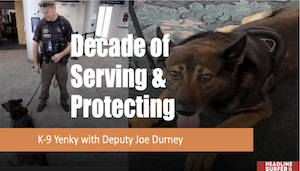 83. Sheriff's k-9 Yenky retires after serving the flying public for more than 10 years at Daytona Beach International Airport
DAYTONA BEACH, Fla. - After more than 10 years of bomb detection and protecting Daytona Beach International Airport, it was time for Yenky, K-9 officer, to turn in his badge in favor of retirement. 
Yenky and his partner, Senior Deputy Joe Durney, were honored in May at the airport to celebrate Yenky's retirement. 
84. Three injured in crash between school bus and car in DeLand; nobody on the bus hurt
85. Pandemic Relief: Orlando-based Senior Resource Alliance's Meals of Love surpasses delivery projections in Central Florida
86. Life in a coronavirus world: Kelly Powers Ferguson of Daytona has one of those mornings where nothing goes right
87. Grant Enfinger holds off Jordan Anderson to win NASCAR truck series race under the lights at Daytona International Speedway
88. Boys & Girls Clubs of Volusia/Flagler counties receives $12,000 COVID-19 check from FPL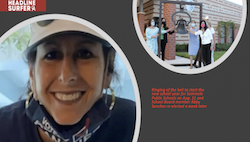 89. Abby Sanchez wins re-election to the Seminole County School Board with 63.11% of the votes
SANFORD, Fla.-- SANFORD, Fla. -- Abby Sanchez, shown here at left, was re-elected to the Seminole County School Board for a second four-year term with close to two thirds of the overall votes over challenger Veronica King for the district 3 seat in Aug. 18 primary  election.
It was the lone contested Seminole County School Board race in the 2020 elections. School Board member Amy Pennock was also up for re-election, but she had no challengers when qualifying ended in June so she was automatically returned to office for another four years. School Board members are paid $41,500 annually.
90. Volusia County Council allocates $1.25 million in COVID funds to school district for protective equipment
91. Jimmy Uso on the shelf 6-9 months with knee injury suffered in Wrestlemania tapings at WWE Performance Center in Orlando
92. Embry-Riddle students helping Daytona's poor during the holidays with garden feeding program
93. Florida League of Cities honors Ormond Beach Mayor Bill Partington with 2020 Home Rule Hero Award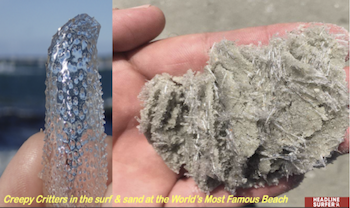 94. Volusia County Beach Safety warns of sea butterflies and soft sand
DAYTONA BEACH, Fla - Volusia County beaches are known for shark bites and jellyfish stings.
Though the hard sands of the World's Most Famous Beach make beach driving a convenience, cars do get stuckwhere sand is soft in spots. And there some swimmers need to be rescued by lifeguards from rip currents.
And over the summer, sea butterflies proved to be a danger. Say what?
95. Orlando Magic Baskets for Books presented by Florida Blue celebrates 10th anniversary
96. 2020 PRIMARY: Mayor Bill Hall 'very honored to be able to serve the citizens of South Daytona for another 4 years' 
97. Richard Orfinger, longest tenured judge with 5th DCA in Daytona Beach, qualified for the 2020 Elections
98. Volusia News: Mike Dyer unanimous choice for permanent county attorney
99. Sweet doggie from DeLand loses shattered hind leg and regains her life, thanks to county's animal services in Daytona.
100. Wayne Taylor Racing wins Rolex 24 at Daytona for third time in four years
About The Byline Writer: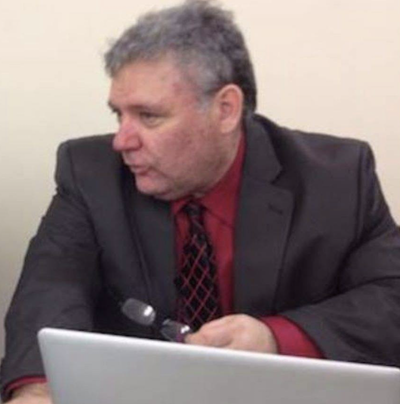 Henry Frederick is publisher of Headline Surfer, the award-winning 24/7 internet news outlet launched 12 years ago that serves greater Daytona Beach, Sanford & Orlando, Florida via
HeadlineSurfer.com
. Frederick has amassed more than a hundred journalism industry awards in print & online -- more than all other members of the working press combined in Central Florida since the mid-1990s. He earned his Master of Arts in New Media Journalism with academic honors from Full Sail University in 2019. Having witnessed the execution of serial killer Aileen Wuornos in Florida's death chamber and other high profile cases, Frederick has appeared on national crime documentary programs on Discovery ID and Reelz for his investigative reporting and cops & courts breaking news stories. 
Award-Winning Journalism of Henry Frederick
.  
COPYRIGHT NOTICE: All written and visual content contained in this story is the sole intellectual property of Headline Surfer LLC and may not be copied in whole or in part without advance written permission from the publisher of this Central Florida online news site.