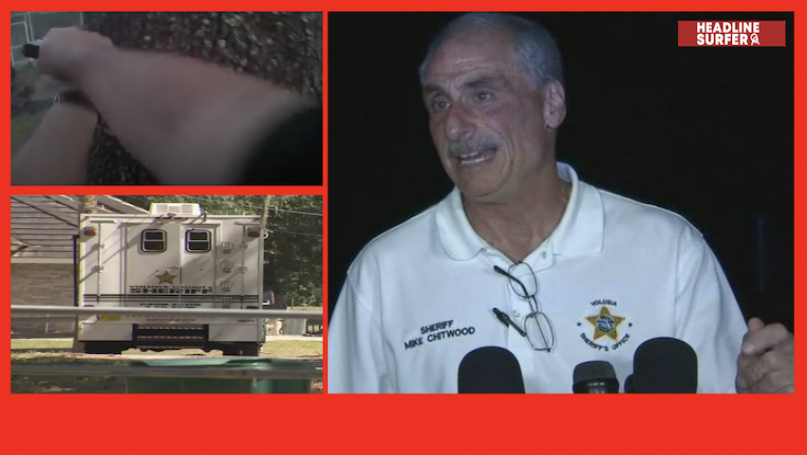 Counting 'em Down: For better or for worse, this is the Headline Surfer countdown of 2021's Top 100 biggest news stories of Central Florida along the tourism-driven stretch of Interstate 4 (Orlando Attractions and east to I-95 & the World's Most Famous Beach in Daytona). Each recap segment is posted with its own headline, culminating with the unveiling of No. 1. Each segment includes a 2022 update.
Photos for Headline Surfer / ABOVE: Enraged Volusia County Sheriff Mike Chitwood tells Orlando TV news crews how upset he is with Florida juvenile justice authorities for placing two juveniles in a residential facility where they ran away, broke into an unoccupied home while the homeowner was away, found three firearms - shotgun, AK-47 and a semi-automatic handgun, which they used to fire at his deputies from inside after they responded to 9-1-1 call of hearing window glass breaking. 
By HENRY FREDERICK / Headline Surfer
DAYTONA BEACH, Fla. -- A 12-year-old boy and a 14-year-old girl who ran away from a children's group home in Enterprise back in June, broke into a house, armed themselves with several of the homeowner's guns, and opened fire on several responding deputies who tried to talk them into surrendering.
The 14-year-old girl was shot and wounded after she came out of the garage at 1050 Enterprise Osteen Road and pointed a shotgun at deputies outside the house. The 12-year-old boy, armed with an AK-47, finally put down his weapon shortly thereafter and was not injured.
Both children had fired at deputies multiple times throughout the incident as deputies attempted to resolve it peacefully. No deputies were injured. Headline Surfer is not publishing the names of the juveniles because of their ages.
Sheriff Mike Chitwood, in a live Facebook press conference from the scene, put on a show for the TV news cameras and social media audiences with his over-the-top verbosity, including name-calling and vulgarity, referring to the two kids as "little desperados" and "thugs."
Though Chitwood readily acknowledged the 14-year-old girl was "fighting for her life" with multiple gunshot wounds, he expressed no empathy for her, saying in part: I have no sympathy! None! And anyone who says I'm an asshole so be it!"
Chitwood also took aim at authorities who deal with juveniles, stating in part: "Justice for juveniles, it's bullshit! It's bullshit!"
Chitwood went into overdrive on his political soapbox on national talking points that had little to no relevance to the situation at hand - never mind that none of his deputies were injured or worse.
"They want to defund us. They want to sanction us and take away qualified immunity - make us the bad guy," he said. "You have 12- and 14-year-old thugs who want to shoot it out."
Here is a synopsis of what occurred on June 1, 2021, as described by the VCSO:
The incident originated from a report of two runaways from Florida United Methodist Children's Home, 51 Children's Way, Enterprise, where a 12-year-old boy (DOB 10/15/2008) and a 14-year-old girl  (DOB 2/8/2007) were reported missing shortly before 5 p.m. Deputies learned that O'Brien is diabetic and didn't have his medication with him. It was also reported that Jackson hit a staff member with a stick.
Deputies were searching the area when, around 7:30 p.m., a passerby witness reported hearing glass (windows) break at 1050 Enterprise Osteen Road. As they approached the house, deputies saw two figures in the house. They contacted the homeowner, who told them no one should be home, and that there was a handgun, a shotgun, and an AK-47 inside, along with a large amount of ammunition.
After deputies surrounded the home and began making announcements into the house, the children started shooting. The 14-year-old girl fired her first shot at a sheriff's sergeant out a back patio door around 8:30 p.m. Preliminary information indicates the children fired at deputies on four separate occasions over the next 35 minutes before Jackson came out of the garage, pointed the shotgun at deputies twice, and was shot and wounded.
After the girl was shot, deputies moved in to provide life-saving aid. The boy, who was in the garage armed with the AK-47, surrendered without firing another shot.
The girl was transported to Central Florida Regional Hospital in Sanford with life-threatening injuries. She was later reported to be out of surgery, in stable condition, and transferred to another hospital for further treatment. O'Brien was also transported to Central Florida Regional Hospital for treatment of his medical condition, not because of any injuries sustained in the incident.
Sheriff Mike Chitwood told reporters at an 11:30 p.m. news conference outside the property's gate that the sustained, armed assault on law enforcement from two children was "something I've never seen in 35 years in policing."
"Deputies did everything they could tonight to de-escalate, and they almost lost their lives to a 12-year-old and a 14-year-old," Sheriff Chitwood said. "If it wasn't for their training and their supervision… Somebody would have ended up dead."
"I don't know where we get the men and women who respond to these incidents, who do what they do, and do it with bravery, do it with courage, and do it while trying to protect the sanctity of human life," he said. "But they took rounds – multiple, multiple rounds – until they were left with no other choice but to return fire."
The Sheriff's Office handled close to 300 calls at the Florida United Methodist Children's Home in 2020. 
Charges against the two juvenile defendants are pending.
The Florida Department of Law Enforcement responded to the scene to conduct an investigation into the incident, as is standard in deputy-involved shooting cases. The deputies involved will be temporarily placed on paid administrative leave, also standard.
Multimedia:
Facebook embedding / VCSO video / Sheriff Mike Chitwood goes live before the Orlando TV news crews to talk about two runaway teens who shoot at deputies and they return fire - hitting a 14-year
YouTube embedding / VCSO video / Gunfire exchanged 
About the Byline Writer: Henry Frederick is a member of the working press and publisher of Headline Surfer, the award-winning 24/7 internet news outlet launched in 2008, that serves greater Daytona Beach, Sanford & Orlando from Lake Mary, Florida via HeadlineSurfer.com. Frederick has amassed close to 150 award-winning bylines in print & online. He earned his Master of Arts in New Media Journalism from Full Sail University in 2019. He was a breaking news reporter (metro cops & courts beat) for the Daytona Beach News-Journal for nearly a decade. And Before that worked the same beat for The Journal-News/Gannett Suburban Newspapers in Rockland/Westchester counties, NY, dating back to 1989. Having witnessed the execution of serial killer Aileen Wuornos in Florida's death chamber and covering other high profile cases, Frederick has appeared on national crime documentary shows on Discovery ID, Reelz, and the Oxygen Network series "Snapped" for his analysis. • Award-Winning Journalism: Florida Press Club recognizes Headline Surfer for nine stories in 2020 statewide competition. • Award-Winning Journalism of Henry Frederick.