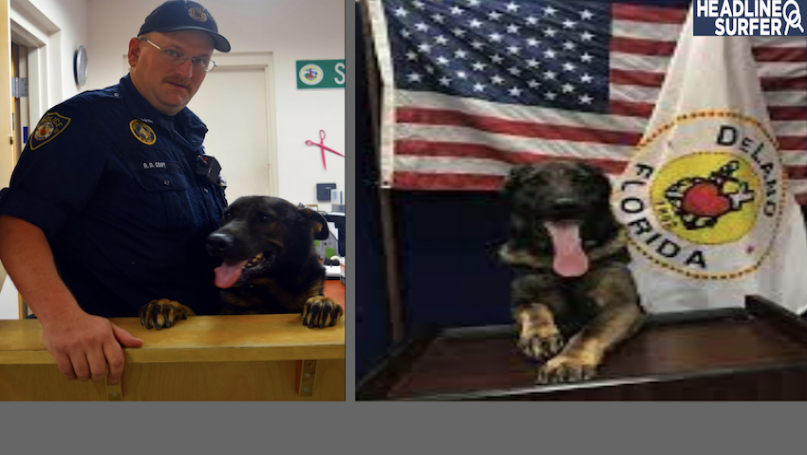 Counting 'em Down: For better or for worse, this is the Headline Surfer countdown of the 2021's Top 100 biggest news stories of Central Florida along the tourism-driven stretch of Interstate 4 (Orlando Attractions and east to I-95 & the World's Most Famous Beach in Daytona). Each recap segment is posted with its own headline, culminating with the unveiling of No. 1 in the first two weeks of January, if not sooner, before switching to the Top 5 storylines -- the good, the bad & the ugly on the horizon in "2022: The Year That Lies Ahead." 
Photos for Headline Surfer / Above: The DeLand PD k9 team of Daro and Sgt. Richard Cody stand proudly and Daro shown by himself on retirement day, Oct. 4, 2021. Below: DeLand Police Chief Richard Ubburger promotes Richard Cody to the rank of Sergeant in 2019. The k9 unit poses in front of 5 pounds of marijuana seized in 2020 seized that Daro sniffed out, and the two had a fun time at Jackie Robinson Ballpark in Daytona Beach in 2019 showing off some training skills.
By HENRY FREDERICK / Headline Surfer 
DELAND, Fla. -- After seven years-plus of service with the DeLand Police Department, k9 Daro retired on Oct 4.  
Sgt. Richard Cody returned to work minus his four-legged partner who stayed home, his retirement from police work fulfilled at age 9.
Cody has willingly shouldered the expense of caring for his German shepherd partner in retirement.
For dogs like Daro, who recently "retired" from the DeLand Police Department at the age of nine and was adopted by his former handler, the cost of care can be considerable. Under Florida's current system, Daro's guardian will be personally responsible for paying the dog's vet bills. While some law enforcement agencies do provide funding for their canine retirees' veterinary care, the majority do not. And that includes DeLand PD.
DeLand Police Chief Richard Umberger promoted Sgt. Richard Cody Richard Cody to the rank of Sergeant of the D-Squad 2nd Platoon on May 14, 2019.  He has been with the PD for nearly 11 years and was a member of the K-9 Unit with his partner, Daro for the past seven years until Daro's retirement due to his advancing age.
On April 27, The patrol SUV driven by Sgt. Richard Cody (with his K-9 partner, Dar), was struck in a collision when another vehicle apparently ran a red light at the intersection of International Speedway Boulevard and Amelia Avenue.
Thankfully, both Sgt. Cody and the other driver were expected to be OK after being treated for their injuries at AdventHealth DeLand. Sgt. Cody suffered minor injuries and Daro was uninjured. The Florida Highway Patrol iwas nvestigating the crash.
The k9 team had quite a few well-wishers in social media. 
So glad Sgt. Cody and Daro are safe and uninjured," said Sharon Baugh wrote on the DeLand PD Facebook page.
Victoria Carr was far more blunt: "So glad they are okay! People need to get their heads out of their asses when they are operating a deadly motor vehicle. It's getting ridiculous."
Mary Cisco added, "Good to hear Sgt. Cody and Daro are okay."
Sgt. Cody and Daro are okay, indeed.
About the Byline Writer: Henry Frederick is a member of the working press and publisher of Headline Surfer, the award-winning 24/7 internet news outlet launched in 2008, that serves greater Daytona Beach, Sanford & Orlando from Lake Mary, Florida via HeadlineSurfer.com. Frederick has amassed close to 150 award-winning bylines in print & online. He earned his Master of Arts in New Media Journalism from Full Sail University in 2019. He was a breaking news reporter (metro cops & courts beat) for the Daytona Beach News-Journal for nearly a decade. And Before that worked the same beat for The Journal-News/Gannett Suburban Newspapers in Rockland/Westchester counties, NY, dating back to 1989. Having witnessed the execution of serial killer Aileen Wuornos in Florida's death chamber and covering other high profile cases, Frederick has appeared on national crime documentary shows on Discovery ID, Reelz, and the Oxygen Network series "Snapped" for his analysis. • Award-Winning Journalism: Florida Press Club recognizes Headline Surfer for nine stories in 2020 statewide competition. • Award-Winning Journalism of Henry Frederick.