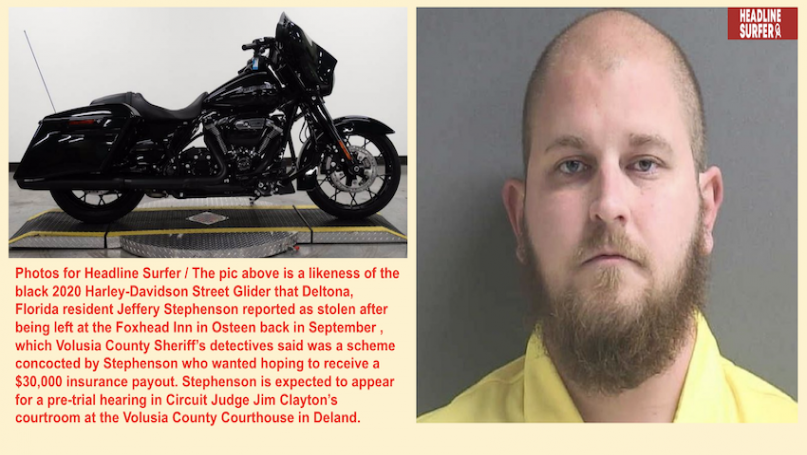 Counting 'em Down: For better or for worse, this is the Headline Surfer countdown of the 2021's Top 100 biggest news stories of Central Florida along the tourism-driven stretch of Interstate 4 (Orlando Attractions and east to I-95 & the World's Most Famous Beach in Daytona). Each recap segment is posted with its own headline, culminating with the unveiling of No. 1 in the first two weeks of January, if not sooner, before switching to the Top 5 storylines -- the good, the bad & the ugly on the horizon in "2022: The Year That Lies Ahead."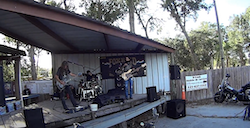 By HENRY FREDERICK / Headline Surfer
OSTEEN, Fla. -- The Foxhead Inn is a vintage biker bar where cold beer, Harley-Riders, and a classic rock band blend so effortlessly under the rays of a late afternoon September sun beginning its descent.
It is this camaraderie, where small groups of bikers will gather or if just right, a man a woman engaged in small talk that a local biker just can't get on tourist-driven Main Street in Daytona just a few weeks from Biketoberfest or in March after Speedweeks and the Daytona 500, it's Bike Week.
But here at the Foxhead Inn in rural country-like Osteen that the roar of the Harley is switched off, kickstand kicked out, and the bartender bringing out that first cold Bud Light to the winding electric guitar and bass adding richness to the sound kicking in from a live band playing Steppenwolf's "Magic Carpet Ride" or The Pusher."  Anything but yet another rendition of "Born To Be Wild."The first Bud light soon gives way to a second and then nursing that the third bottle knowing the ride home awaits.
Still, though, a seemingly serene place where only the music dominates. Fort here is a man in his late 20s, sitting away from his chrome Harley Road King his ever-receding hairline hidden under a bandana. 
 Yeah, he's losing his hair, but not his sense of humor while making eye contact with tanned, toned arms, about his age, maybe even early 30s. sitting cross-legged next to her light blue 883 Harley Sportster, with leather saddlebacks draped over the rear fender. Her firm behind filling out skinny-leg black jeans tucked into the cutest cowgirl boots, her flat-exposed midriff giving way to a form-fitting white halter top, her own V-twins not quite strapped in. 

For it is a lazy Friday afternoon like this where the light conversation leads to well, nothing. At least not until they hop on their bikes - she on her Sportster and he on his Harley Road King - and off they rode into the sunset with her in the lead. 
Who wouldn't want a scenario like that after a few hours at the Foxhead Inn?  
Apparently, not one Jeffery B. Stephens, aka "Brad," 29, of Deltona whose custom motorcycle was a beauty to behold: Black 2020 Harley-Davidson Street Glide Special. Its value? Try $30,000.
And after throwing back shots galore, the time was at hand for Stephens to follow through on his fool-proof plan - One too many to leave on the flashy bike so he calls for an uber. He tells the bartender he'll come back for the bike in the morning. 
But here's the first clue that all is not quite what it seems. Why would he walk out to his dream machine and park as far away from the bar as the tapering parking lot allows? 
Stephens wasn't interested in making small talk with a gal or shooting the breeze with a handful of bikers.
He had something. else in mind.
Something that would lead to him getting arrested on Friday afternoon after a thorough Sheriff's Office investigation into the theft he reported Sept. 25 at the Fox Head Lounge, 280 N. S.R. 415 in Osteen.
That of his black 2020 Harley-Davidson Street Glide 
Stephens initially told deputies he parked his Street Glide Special at the bar and left it there overnight on that Friday into Saturday while he took an Uber home. He said when he came back Saturday to pick it up, the Harley was gone from where he parked it.
Detectives noticed it seemed Stephens had parked the bike as far away as possible from the Fox Head's cameras. But he inadvertently parked it in view of a surveillance camera at nearby Skip's Boots.
Upon reviewing that footage, detectives saw Stephens sitting outside facing the motorcycle when a vehicle pulled up next to it, and someone ultimately got on the Harley and rode away.
Sheriff's detectives identified the driver of the vehicle that pulled up next to the bike and interviewed him. He admitted that Stephens had planned the incident and met with him the night before, stripping down the Harley of valuables and disconnecting a GPS device. Phone records indicated he and Stephens were in constant communication via text message at the time of the alleged theft, according to an arrest affidavit.
Herein was the bottom line: Stephens, who reported his motorcycle stolen from the Foxhead Inn in Osteen last month has been arrested on fraud and related felony charges after sheriff's detectives determined he set up the "theft" in order to get an insurance payout of $30,000, exactly value.
To this day, three months later, Stephenson's supposedly prized Street Glider, has not been recovered
Stephens' insurance company was kept updated on the investigation by detectives, and as such, has denied his claim.
Stephens was charged with insurance fraud, tampering with evidence, and providing false information to law enforcement. Felony crimes that could land him in prison for 2-5 years. He bonded out of jail a month or so ago.
Multimedia Bonus: For those of you who do love your motorcycle or dream of someday owning your own Harley Street Glider, Headline Surfer rewards you for staying with the story up to here, you can enjoy the rich sound of a true American motorcycle, The Harley-Davidson Street Glider.
YouTube embedding / A Harley-Davidson Street Glide- owner starts up his bike.
About the Byline Writer: Henry Frederick is a member of the working press and publisher of Headline Surfer, the award-winning 24/7 internet news outlet launched in 2008, that serves greater Daytona Beach, Sanford & Orlando from Lake Mary, Florida via HeadlineSurfer.com. Frederick has amassed close to 150 award-winning bylines in print & online. He earned his Master of Arts in New Media Journalism from Full Sail University in 2019. He was a breaking news reporter (metro cops & courts beat) for the Daytona Beach News-Journal for nearly a decade. And Before that worked the same beat for The Journal-News/Gannett Suburban Newspapers in Rockland/Westchester counties, NY, dating back to 1989. Having witnessed the execution of serial killer Aileen Wuornos in Florida's death chamber and covering other high profile cases, Frederick has appeared on national crime documentary shows on Discovery ID, Reelz, and the Oxygen Network series "Snapped" for his analysis. • Award-Winning Journalism: Florida Press Club recognizes Headline Surfer for nine stories in 2020 statewide competition. • Award-Winning Journalism of Henry Frederick.